Aditi Technologies Pvt. Ltd.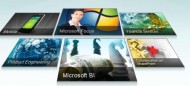 Aditi Technologies provides Microsoft software & applications development, strengthened by innovative IP solutions. Our quality services, products and applications enable global enterprises and software product companies meet tomorrows challenges.
Services:
Aditi Technologies services leading enterprise and software vendors on the Microsoft platform. Strengthened by proprietary frameworks and strategic partnerships, we guarantee predictable quality and a predictable time to value to all our clients.
Our service offerings include:
Consulting
Enterprise Solutions
Software Product Engineering
Aditi Technologies Pvt. Ltd.
' also may find interest in followings . . .

Zenith Software, an ISO 9001:2008 and ISO/IEC 27001:2005 certified company, provides world-class software solutions and support services to its clients using a proven...

Sonata's services range from IT Consulting, Product Engineering Services, Application Development, Application Management, Managed Testing, Business Intelligence,...
Our flagship product, Agni FinAcc is a business automation solution tailor made for you. You can have: Effective Accounting (AR/AP) Flexible Inventory Management...
Cybercom Software Systems Limited Providing Software Solutions

CSM is a top notch engineering services solutions provider with a strong pedigree of working with global customers, offering end-to-end engineering services outsourcing...

Graficasoft has carved a place in the world of software development market. It is a technically advanced organization specializing in the field of software development...

Webstar is an Information Technology Solutions Company with a passion to offer innovative, cost effective and quality solutions to its worldwide customers. It...
Category:
Submit your company info here.