Automated Workflow Pvt Ltd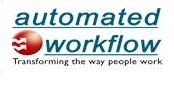 Automated Workflow (AWPL) is a market leader in providing Business Process Management (BPM), Enterprise Content Management (ECM), Service Oriented Architecture (SOA), Enterprise Service Bus (ESB), Business Intelligence (BI) and Business Activity Monitoring (BAM), Content and Document Management (workflow and imaging) products and solutions.
Our forte lies in redesigning and automating an organization's Business Processes using Content Management & Workflow Technologies from IBM, Tibco/Staffware, Lombardi, Oracle & Documentum, the world's most robust and scalable imaging & workflow engines.
We specialize in the consulting, sale and implementation of content management and business process management solutions. We are in business to offer solutions, insights and a measured degree of improved efficiency with our accelerator products and services.
Automated Workflow Pvt Ltd
' also may find interest in followings . . .

Zenith Software, an ISO 9001:2008 and ISO/IEC 27001:2005 certified company, provides world-class software solutions and support services to its clients using a proven...

Sonata's services range from IT Consulting, Product Engineering Services, Application Development, Application Management, Managed Testing, Business Intelligence,...
Our flagship product, Agni FinAcc is a business automation solution tailor made for you. You can have: Effective Accounting (AR/AP) Flexible Inventory Management...
Cybercom Software Systems Limited Providing Software Solutions

CSM is a top notch engineering services solutions provider with a strong pedigree of working with global customers, offering end-to-end engineering services outsourcing...

Graficasoft has carved a place in the world of software development market. It is a technically advanced organization specializing in the field of software development...

Webstar is an Information Technology Solutions Company with a passion to offer innovative, cost effective and quality solutions to its worldwide customers. It...
Category:
Submit your company info here.