American Celebrity Guru Offers "Prosperity of Peace" Lecture
Submitted by Anonymous on Fri, 05/30/2014 - 20:07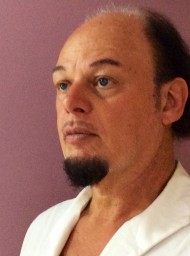 On June 8, 2014, at 3 PM, Babaji Maharaj, American Celebrity Guru, will offer a presentation at "The Paradigm Shift; Activist Center." The presentation is titled "Prosperity of Peace" and is open to the public. The information offered to the community will be insightful, humorous and based on Maharaj's life experience. Attendees to the lecture will hear about the philosophies of the prosperity of peace as well as the relationship this has to stress, violence and anxiety, specifically with the intention of offering guidance on mastery on these personal and social issues.
Maharaj came to Bangalore, India on a personal yatra. He is visiting various places as a personal pilgrimage. He is an American Celebrity Guru working for over 30 years as a Yoga Master. His father was part Indian and French and his mother was British. His visit to Bangalore is designed as a central base to write, reflect and to easily access many of the ancient, holy places around India. His initiations into Yoga Mastery and other formats of spiritual belief guided him to India from America as a place of spiritual refuge.
As he has been a global consultant to million dollar and even billion dollar corporations in America, he is also interested in looking at business opportunities within technology and other sectors. He is here as a representative with Omatrix Inc, a sector of his company, and is involved with guiding three potential high - tech start-up businesses. He is also looking at potential ways to expand his own business, the Omatrix Center. This is an online university that offers workshops and retreats in health and wellness. As he is being featured in the European Yoga Magazine, he is observing places that may work as a spiritual retreat space based on the launch of his new system, "Super Yoga."
While settling into a new apartment for his summer stay, a shocking incident occurred where he was attacked and beaten on a street corner in Koramangala by 4th block. The incident happened after an argument with a shop owner who would not return a deposit and was requesting more money than required for a mattress to an apartment. It was agreed that the mattress would not work; however, the shop owner decided to ask for more money instead of returning what was owed. While walking out of the shop, a man whom Maharaj did not know began yelling at him, then ran after him attacking him from behind with a tire hose pipe. Maharaj filed a criminal assault report and the doctor reported that he left pattened abrasions on his back, knee and ear from the blows. Later that night, the bed where he was sleeping was covered in blood. The Koramangala Police were very helpful for the immediate investigation and care to the situation.
Both a Karate and Kriya Yoga Master, Maharaj chose not to fight back or hurt the man who attacked him. He believes that violence leads to more violence. Corruption leads to more corruption. Ironically, a project that Maharaj is working on involves writings, workshops and presentations to the globe based on an innovative platform that involves a new attitude and approach based on fairness in business and trade. Maharaj believes that the current economic systems involve too many irregularities and are unfair to both private citizens and the business sector. He is a strong believer of an economic system that is not tied to violence, war, corruption, as it will only destroy itself and the community that supports it.
Maharaj states, "We must begin to unite ourselves in a higher awareness and deeper understanding of our mutual survival. A new approach which is productive and empowering for every classification of the society is required. The world that we live in can be prosperous and peaceful. The local communities, the global village, all of humanity must realize and work towards a new and higher goal. The prosperity of the future can only be based on the prosperity of peace. Otherwise, there will be no future."
The result of the incident and the initiations of Maharaj's work will begin with his initial presentation of the "Prosperity of Peace." Maharaj expects to implement several workshops and intensives for business owners and individuals who wish to become leaders in the forefront of a platform that offers fairness and peace in relation to the economy. For more information on Maharaj and the Omatrix, please visit www.omatrixcenter.com. If you would like more information on this event, please contact i...@omatrixcenter.com or call 9086658605.