Indian Mythology scripted on Canvas by Bolgum Nagesh Goud
Submitted by Anonymous on Fri, 08/30/2013 - 10:12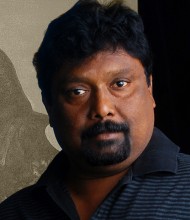 Bangalore, August 29, 2013: Krisala Arts, an e-art gallery, will showcase the travel show - paintings of the artist Bolgum Nagesh Goud in Bangalore from August 31 – September 5th in ITC Windsor Manor from 11 am to 7 pm. The theme of the solo show would revolve around the myths, dramas that hold the great Indian tales of heroism, resolution. Stories from Ramyana & Mahabharta will be explored using different mediums such as acrylics, watercolors, pen and ink, paper collages, pencil, metallic inks, oil pastels etc. Reminisces the traditional leather puppets of Andhra Pradesh, the attires, ornamentation, embellish, making over the beauty of these perfect characters. A total number of 50 paintings will be displayed & would available for sale during the show. After Bangalore, the show will shift to Chennai.
The important features of this series would be the use of Opaque colors and line drawings. The sturdy lines in Nagesh's work intensify his characters ,strengthen them with a distinct linear flow - a defined curvaceous jawline and a unhampered cheek that end in the beauty of sharp almond shaped eyes ,which protrude off the profile. The choices of colors add an extra energy to the work. Monochromatic grey scale with vivid blues, vibrant oranges and yellows strengthen the robustness of the forms. Nagesh Goud manages to give these well-tempered faces a sense of pride and decorum, as the story unfolds blending the past with the present as a perfect tale.
According to him, "I want to express these in my own creative visual imaginary. My style of paintings is based on experimental studies, in ancient stories, with different mediums, Acrylics, Water colors, Pen and Ink, Metallic inks, oil pastels etc become strong medium of the reflection of my vivid perception and understanding of managing human value to achieve Individuality. I hope to be remembered for my ability to illustrate my Convictions on Canvas. "
Krisala Arts, a brainchild of Shilpa Dugar & her mother Mrs. Meena Dadha of Prakrit Arts, believes in providing platforms for young artists who is distinctive in style & content. So far they have conducted successful shows in London, Newyork, Malaysia, Dubai, Nepal & India. "Backed by years of personal experience in art collection, our team aims to offer a creative interface between connoisseurs, artists and collectors. The inclusiveness of our approach will be the distinguishing feature of Krisala Arts. Alongside, we will publicize valued works through special exhibitions and auctions. "- says Shilpa.