PRESS RELEASE:Over 7,400 candidates placed by Karnataka Employment Centre
Submitted by Anonymous on Thu, 06/14/2012 - 14:28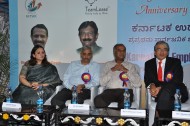 PRESS RELEASE
India's first PPP Employment Centre has served over 15,281 and placed over 7,400 candidates in 2 years
Bangalore, June 14, 2012: Karnataka Vocational Training and Skills Development Corporation (KVTSDC), a Government of Karnataka undertaking, established to provide training and employment to youth in the State in association with TeamLease Services Pvt. Ltd, India's largest staffing solutions company celebrated the second anniversary of Karnataka Employment Centre (KEC), today.
Chief Guest G.S. Narayan Swamy, I.A.S., Secretory, Labour & Employment and N. Sriraman, I.A.S., Commissioner, Employment & Training and Managing Director, KVTSDC distributed the employment letters and training completion letters to the candidates. In two years of its operations, KEC has served over 15,281 candidates, 8,960 candidates have undergone skill assessment, 13,467 candidates were sent for interview and over 7,400 candidates have got jobs in various industries.
Speaking about the unique model H.A. Keshavamurthy, Executive Director, KVTSDC said, "It is indeed good to see that KEC has placed over 7400 candidates in two years and the trend shows that employment process can be accelerated through public-private partnership. We have conducted many job fairs throughout the State and have helped 3 lakh people secure jobs in varied sectors."
G.S Narayan Swamy, IAS, Secretary, Labour and Employment said, "The PPP initiative is one of its kinds and aims to get rid of un-employability as it is a bigger challenge than unemployment." He also added that Government of Karnataka has taken up the initiative to establish HRD centres in public-private partnership (PPP) and thereby understanding the need of the job seekers and support the economically backward unemployed youth.
Thanking the Karnataka Government for adopting the innovative model, Manish Sabharwal, Chairman TeamLease IIJT said, "We are privileged to have been associated with Government of Karnataka and are grateful to them for their support. We strive to take this forward to every State and help them bring employment solutions to the table with professional management." As part of this anniversary celebration, KVTSDC along with TeamLease had organized Udyoga Deepa, a Mega Job Fair in which more than 18 companies participated with more than 2000 openings for MBA, BTech, BA graduates, undergraduates and SC/ST candidates.
Neeti Sharma, Vice President, TeamLease Service Pvt. Ltd. was the guest of honor for the event.