Spanish Cuisine in Bangalore
Submitted by su on Thu, 05/03/2012 - 10:46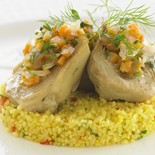 Spanish cuisine is a delicious amalgamation of dishes that are the culmination of history, geography and culture. There exists two distinct cuisines - the animal-intensive North and the seafood - intensive south, which lakes its cue from the rich produce available in the waters surrounding it.
Historically, Spanish cuisine has had a rich Roman influence, usage of wheat being one of the most prominent ones. However, the country's extensive history, which inevitably brings with it cultural influences, has had a strong say in the establishment of hundreds of dishes. As a result, Spanish cuisine has become one of the main constituents of the Mediterranean Diet, which focuses on an abundance of fresh ingredients, vegetables and olive oil.
Typically, Spanish cuisine differs from region to region whereas there are few dishes that are common to all the regions. However, there are some that have originated in a specific place but spread so much that they can be found across the length and breadth of the country. One such dish is the pasta, though it originated in Valencia, It has gained popularity throughout Spain (the Spanish themselves still consider it a very regional dish).
It constitutes three essential ingredients - rice, meat and vegetables- which are together cooked in olive oil and saffron. There are plenty of variations, such as the seafood paella, which is most popular- cooked using prawns, squid and clams - and is considered amongst the most authentic versions.
Other Ingredients and dishes found across the country Include lentils and all kinds of beans, myriad varieties of Jomon (dry cured Spanish ham); especially famous are Jomon Serrano or mountain ham and the exclusive Jamon Iberico made from black Iberian pigs. In addition, there are hundreds of varieties of chatn or spicy sausages and cheeses. Some common dishes include to Sodepofafar or potato omelette, slews and soups, namely the cold gttiwcfto soup.
Some areas have very distinct dishes that are not found elsewhere, such as Segovia where pig end lamb are very popular and serving the dish is accompanied by a ritual involving carving of the animal with a porcelain plate and then destroying it.
Among desserts, some Spanish favourites are ana con lache or rice pudding, chunou, panefets or almond sweets and marzipan from Toledo, which enjoy protected Geographical incitation.
However, one dish that has been savaured nationwide is the tapas. Such is its popularity, and convenience, that not only do you find dedicated tapas bars across Spain but it is also amongst the mast popular items exported from the country.
Culinary word: Tapas
Tapas – literally, means to cover and the word could have evolved into the current Spanish concept of nibbles, with drink, or as a precursor to a meal, from the ancient practice of covering the glass with a slice of bread or meat in order to keep away flies.
History has it that the origins of tapas go back as far as the 13th century to when the Spanish king Alphonso X, recuperating after an illness, was advised small meals with wine In between his meals. He was so taken in by it that he ordered taverns to serve customers small snacks with meals, so much so that it has become a culinary tradition.
Some common tapas items include olives, pickled vegetables on a skewer, cheeses, meatballs, batter-fried squid rings, croquettes, fried potato slices or patatas bravas, toasted bread topped with tuna or quail egg, prawn fritters, etc.
Do-it-Yourself: Gazpacho
Originating In the southern Spanish region of Andalucia, Gazpacho is popular throughout Spain and is a raw vegetable cold soup. It is especially consumed during the summer for its refreshing taste.
6 tomatoes, chopped
2 slices of bread
1 onion, finely chopped
1 cucumber, deseeded and chopped
1 red or green capsicum, deseeded and chopped
1 tsp minced garlic
2 tbsp olive oil
1 tsp fresh coriander, chopped
1 tsp sugar
2 tbsp fresh lemon juice/vinegar
1 cup of water
Salt to taste
Tabasco (optional)
Method:
Blend everything in a food processor along with very cold water. Refrigerate in a non-metallic container for an hour till all the flavours blend. While serving, the soup can be garnished with either one or more of the following - minced cucumber, tomatoes, capsicum or coriander. Drizzle half a teaspoon of olive oil on top.
Chef Talk
Chef Adhijh Saga, Caperberry introduces us to some staple and quintessentially Spanish offerings;
Lamb Albondigas (spiced sofrito; mixed herbs)
Prawn Al AJillo (cooked with garlic, chili and olive oil)
Paella Vegetariano (saffron rice, herbs, seasonal vegetables, allioli) and Seafood Paella (saffron rice, prawn, squid, clams, fresh herbs)
Spanish Churros (fried choux pastry coated with cinnamon and sugar served with spiced warm chocolate)
Taste of Spain - Arroz Con Leche (Spanish rice pudding);
Orange Crema Catalana type of custard from the Catalan region of Spain flavoured with fresh orange)
Spanish Restaurants in Bangalore:
Caperberry: 121, Tine Estate, Dickenson Road, Bangalore - 560042, Karnataka, India, Ph - +91 80 2559 4567, Web: http://www.caperberry.in/
El Tablao: Lotus, 612/1, 80 feet Road, 4th Block, Koramangala, Bangalore 560034, India, Ph: +91 (0) 80 41410124, web: http://eltablao.co.in/
Ruh: Ganapa Towers: 4th Floor, Sarjapur Outer Ring Road, Bellandur Junction, (Close to Salarpuria Soft Zone),
Bangalore - 560037. For Reservations Call: 080 42022727, 080 42024747 Email : ruhr...@gmail.com Web: http://ruhrestaurant.com/
Casa del sol (tapas): 131 Devatha Plaza, Residency Road, Bangalore -560025. Phone: 080-41510101