Shine Spa at The Sheraton
Claim this page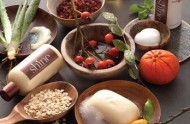 Relaxation has a new address in town - The Shine Spa at The Sheraton Bangalore. You could have easily mistaken the spa lobby for a cosmetic boutique with towering shelves of Shine Spa products. There is clearly more than meets the eye as you will quickly ushered down a narrow, wooden staircase which takes you to a dim-lit corridor. The Smiling Spa therapist leads you to the treatment room which should, in fact, be called Cleopatra's bath. A large room, with a pair of comfy massage tables, ideal for couples' therapy, and steps leading up to a Jacuzzi tub masked behind sheer curtains completes the set up. The room also has a steam cubicle that warms up in minutes.
The spa menu doesn't run into pages, which can only be a good thing, showcasing the highly selective nature of the quality that they bring to their customers. A perfect way to end or start your hectic week, the Shine Spa will make your state of mind - sparkle.
Shine Spa at The Sheraton
' also may find interest in followings . . .

The ibis Bengaluru Techpark is a 4 star hotel property that is situated opposite the Intel Campus, on the Sarjapur Outer Ring Road (ORR) in Bengaluru, Karnataka. Considered as...
Gents PG, well furnished rooms with attached bath room twin / triple / four sharing basis with homely veg food 2 times in week days and 3 times in weekends(north & south...

Akaasa - boutique spa is located in an architect designed bungalow spread over more than 3500 sq. ft. the interiors are a fine blend of modern art and traditional architecture...

Here are 10 things to help you get a good night's sleep. Have and stick to a regular bedtime and wake up schedule. Try to go to bed and get up about the same time each night and...

MTR are the pioneers who set the bar for quality South Indian food, they now run a successful chain of restaurants and sell packaged foods world-wide. The original restaurant is...

Raaga's Raiin Tree business boutique hotel, is located adjacent to M.G Road off Brigade Road Bangalore.The hotel has 20 well furnished rooms with all modern facilities. Amenities...
Business and Services: Machine Elements, Jigs & Fixtures Dies, Jigs, Fixtures.
Category:
Submit your company info here.