Supply Co
Claim this page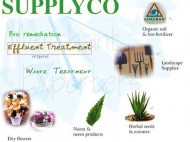 SUPPLYCO was established in the year 1992 in Bangalore - The Garden City Of India . Supplyco specializes in Organic Soil and Bio Fertilizers , Landscape Supplies, Landscape Design and Execution, Natural Raw Material for Dry Flower Arrangements and Eco-Friendly Products for hotels and resorts.
The punchline of Supplyco is RECHARGE THE EARTH THE NATURAL WAY. We at Supplyco believe that Nature has been exploited to the benefit of the Human Beings and therefore every one of us is partly responsible to help restore the ecology and help nature regain. In pursuit of this we strongly advocate use of Natural Organic Products in Agriculture and Eco-Friendly bio degradable products in day to day life, which alone will be a major contributor for the turn around.
Supply Co
' also may find interest in followings . . .
Maya Organic Support Services is a Non Profit Company. MO assists artisans and worker co-operatives to develop and market high quality products and services. Maya Organic works...

Bangalore, July 21, 2014: SoulTree, India's leading and the highest quality BDIH certified Organic Beauty & Personal Care Products is now set to welcome consumers of natural...

If eating your way to good health could be a literal saying, it would be true at Lumiere - an organic restaurant that maintains it own organic farms, bakeries and store to share...
Dedicated to creating eco-friendly furniture and accessories, Natura India designs and manufactures products made from coir ply which are 100% organic and bio-degradable. In their...

With sales offices in several locations in Bangalore Meghna Clay products is the Manufacturers of Decorative and weather proof tiles and machine moulded wire cuts bricks.

Good Earth, the high-end lifestyle store famous for its traditional yet luxurious products, has storied a bespoke Interior design service - Charbagh, Dedicated to exclusive and...

We provide interior & exterior wall cladding in Bangalore and Mysore. We provide wall cladding tiles, stone tiles for living room, commercial building & residential areas...
Category:
Submit your company info here.