Chetana natyaniketana (CNN)
Claim this page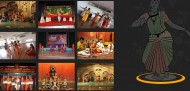 Chetana natyaniketana (CNN) is an institution where the students are trained skilfully in the field of Bharathanatyam, Carnatic music, Veena, Keyboard & fine Arts. The founder & the promoter of CNN Smt. Chetanasundaresh is the teacher who trains about 250 students under the art roof of CNN. The students in CNN are given enormous opportunity to perform in many fests, cultural programmes & temples.
As you visit '
Chetana natyaniketana (CNN)
' also may find interest in followings . . .

VESA INDIAN FINE ARTS was formerly known as pearl art gallery and training school. The place to explore and exploit your inner journey to the world of Traditional art of 16 th...
Music is an intellectual aspect that can drive our brains to forms of intelligence like response of the individual. children have a better response by the influence of music,...

The music institute established in 1987 teaches all kinds of music forms, instruments and other art forms like dance, theater etc. It inculcates discipline, confidence and sense...

Carnatic Music For ages 5 and above The Teacher are Trained to impart the knowledge in the Traditional methods Followed through generations. The students are also prepared for...

For those who take their music seriously. Eastern Fare caters to serious-at-heart newbies with courses in acoustic and classical guitar, piano and keyboard. With several branches...

Thomsun Music House offers Music Education with a Difference Admission Open Now in Indiranagar Bangalore Music Education for Beginners YAMAHA - Music Mates Syllabus Classes in...

Because NSM-trained is a thing now. Sign up for NSM's celebrated Music Method course, and find yourself playing at a concert by the end of it. This flexible, tried and tested...
Category:
Submit your company info here.