Dr. M C Uthappa, Interventional Radiologist
Claim this page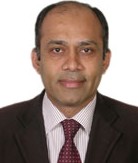 Dr Uthappa has been a consultant interventional radiologist for 5 years in UK and for the last 2 and half years in Bangalore. He has performed over 1800 procedures in the last 7 to 8 years.
He has performed various vascular interventions (Angiograms, Angioplasty, Venoplasty, Vascular stenting), Hepatobiliary interventions (Chemoembolisation and Radioembolisation for liver tumors, embolisation in hepatic arterial and venous injury, RF ablation for liver tumours, Biliary drainage and stenting etc...
Interventional radiologists (IRs) use their expertise in reading X-rays, ultrasound and other medical images to guide small instruments such as catheters (tubes that measure just a few millimeters in diameter) through the blood vessels or other pathways to treat disease percutaneously (through the skin). These procedures are typically much less invasive and much less costly than traditional surgery.
Need a Appointment :
Monday to Saturday ( 9.00 a.m to 1.00 p.m )
Manipal Hospital - HAL Airport Road, Bangalore - 560017
Tuesday & Thursday ( 3.00 p.m to 5.00 p.m )
Fortis Hospital - Bannerughatta road, Bangalore
Monday, Wednesday & Friday ( 3.00 p.m to 5.00 p.m )
St.Philomina Hospital - Bangalore
Call on +91 99020 11245 for an appointment
Dr. M C Uthappa, Interventional Radiologist
' also may find interest in followings . . .

Manipal North Side Hospital situated at Malleswaram, Bangalore is a 70 bed hospital renowned for its medical expertise in the areas of General Medicine, Orthopaedics and...

I am a Neurosurgeon with advanced training in Interventional vascular Neurosurgery(FINR) from Zurich, Switzerland, and FMINS-Fellowship in minimally invasive and Endoscopic...

The Bangalore Children's Hospital is a not for profit organization dedicated to improving health and quality of life in children through its various programs in healthcare,...
Hospital for Orthopaedics, Sports Medicine, Arthritis, Accident-Trauma, Hosmat Arthritis and Joint Replacement Center (HAJRC), Hosmat Institute of Neurosciences (HINS) and Hosmat...
Neither Chennai nor Hyderabad has Bangalore's night life, or the same number of options for day time entertainment. They also don't have a populace for whom seeking entertainment...

Yellamma Dasappa Hospital provides a wide range of sophisticated Medicare facilities under one roof. The hospital has a built-up area of 11,000 sq.ft. It has a six full-fledged...

Jindal Charitable Hospital is run by Jindal Hospital Society at Rajajinagar, Bangalore. On an average 600 out-patients are treated in this hospital daily.A team of 30 dedicated...
Category:
Submit your company info here.