Apollo Cradle- Jayanagar
Claim this page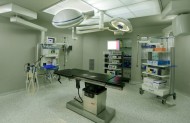 Apollo Cradle is a health care maternity center which is driven by the aim to provide the highest standards of care for every patient, every mother, every baby and every child. The Apollo Group's legacy amassed over 30 years of clinical excellence runs through everything at Apollo Cradle. The state-of-the-art medical infrastructure and facilities follow international protocols of safety and efficiency. For those occasions when a newborn baby needs specialist care, there is the Neonatal Intensive Care Unit (NICU). A two-bed level High Dependency Unit (HDU) is in place for patients who need to be monitored very closely. On the rare occasions where a mother might need temporary intensive care, she is stabilized in the HDU and then transferred to the nearest Apollo Hospital which has all the essential medical staff and technology for any and every emergency. The patient transfer procedures are robust too, with each Apollo Cradle having its own fully-equipped ambulance.
The low rate of complications at Apollo Cradle can easily be attributed to the insistence on every expectant mother undergoing a thorough pre-assessment and pre-delivery check. Nothing is left to chance. If a mother is deemed to be high risk, the safest treatment protocols are brought into action immediately.
The culture of safety runs soul-deep in Apollo Cradle. It's why your loved ones and you are always, in safe hands.
Apollo Cradle- Jayanagar
' also may find interest in followings . . .

The Cradle is the finest distinction in providing quality care and comfort to mothers to be. The only dedicated facility in the city catering to the needs of women before, after...

Mallya Apollo Hospital is a pioneer in health care services and has been treating patients from all over India and abroad.

At Apollo Greens, we offer designed serviced apartments with ultra-modern interior with top line amenities with stylishly designed apartment with Luxury linen and latest serviced...

Rajshekar Hospital situated at J.P.Nagar, Bangalore is a multidisciplinary super speciality 50 Bed hospital. Nationally and Internationally reputed specialists, doctors of various...
Pharmacy: Address: Phone: Apollo Pharmacy 6/36, 8th Cross, 1st A Main Road, Maruthi Nagar , Madiwala 080 22957421 Apollo Pharmacy 91/1, 1st Floor, 5th Cross,...
… Eye Care U Can Trust Trust Eye Care Hospital was established in June 2012 at Jai Bharath Nagar. The aim of the hospital is to provide affordable eye care to people. It is...
Listed Below are The Emergency Ambulance Services Available in Bangalore: Ambulance Services Phone Numbers ( +91 - 80 ) Ambulance 102 Comprehensive Trauma Consortium...
Category:
Submit your company info here.