Blood For sure (Ambulance Service)
Claim this page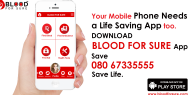 Ambulance Service in Bangalore
Blood for sure is the state of the art emergency response network, which assist people to get in touch with the nearest and the most reliable emergency responder. Ambulance are the heart of emergency response, a right ambulance at right time could save a life during golden hours. Blood for sure aims in giving best ambulance service in Bangalore with the help of advanced technology. One can book the ambulance in Bangalore by downloading the blood for sure app or by calling Ambulance number in Bangalore: 080 67335555.
Blood For sure is associated with the various private, govt and Ngo Ambulance service providers in Bangalore to help people during their medical emergencies. The network includes wide range of ambulances like Advance Life support (ALS)/ICU ambulance, Basic life support (BLS), Patient transportation vehicle (PTV), Air ambulance, mortuary ambulance. Every ambulance is equipped with all the required facilities along with trained paramedic staff and doctors.
All the ambulance are verified and monitored through gps , to identify its position and point the nearest ambulance during emergencies .
Blood For sure (Ambulance Service)
' also may find interest in followings . . .
Listed Below are The Emergency Ambulance Services Available in Bangalore: Ambulance Services Phone Numbers ( +91 - 80 ) Ambulance 102 Comprehensive Trauma Consortium...
Emergency Health Care Services in Bangalore Ambulance Eye Banks Heart Line Blood Banks Other Emergency Services Oxygen services 24 hour pharmacies
Blood Bank Phone Bangalore Baptist Hospital 2333 0323 / 2333 0324 Bangalore Children's Hospital & Research & Institute 2860 0712 / 2860 0552 Bangalore...
Road accidents are increasingly on the rise in our metropolitan cities. It is the duty of every law abiding citizen to know, how to tackle a victim of road accidents. First Aid in...

Yellamma Dasappa Hospital provides a wide range of sophisticated Medicare facilities under one roof. The hospital has a built-up area of 11,000 sq.ft. It has a six full-fledged...

Well-man & Well-women executive health check-up. FREE Doctors consultation Facilities: Digital X-ray Ultrasound Scan ECG Treadmill Test Echocardiography Mammography...

Rajshekar Hospital situated at J.P.Nagar, Bangalore is a multidisciplinary super speciality 50 Bed hospital. Nationally and Internationally reputed specialists, doctors of various...
Category:
Submit your company info here.