Chinmaya Mission Hospital
Claim this page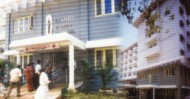 Chinmaya Mission Hospital (CMH) has earned the reputation of the 'Friendly Neighbourhood Hospital' and located at Indira Nagar, in the cosmopolitan city of Bangalore, India. Serving all cross-sections of society and surpassing all language barriers, this multi-specialty hospital offers its best with the help of nearly 100 consulting specialists.
Services:
CMH offers 24-hour emergency care and x-ray, laboratory, pharmacy, and ambulance services. Its departments include general medicine, surgery, dental surgery, obstetrics and gynaecology, orthopaedics, ophthalmology, ENT, dermatology, psychiatry, physiotherapy, and paediatrics. CMH also offers specialization departments, such as vascular surgery, laparoscopic surgery, neurology, neurosurgery, gastroenterology, plastic surgery, oral maxillo and facial surgery, and various fields in dentistry.
The five well-equipped operation theatres, ten beds in the Intensive Care Unit (ICU), five beds in the Step-down ICU, and six beds in the post-operative ward, all have continuous monitoring facilities.
Chinmaya Mission Hospital
' also may find interest in followings . . .

Rajshekar Hospital situated at J.P.Nagar, Bangalore is a multidisciplinary super speciality 50 Bed hospital. Nationally and Internationally reputed specialists, doctors of various...

Yellamma Dasappa Hospital provides a wide range of sophisticated Medicare facilities under one roof. The hospital has a built-up area of 11,000 sq.ft. It has a six full-fledged...
Hospital for Orthopaedics, Sports Medicine, Arthritis, Accident-Trauma, Hosmat Arthritis and Joint Replacement Center (HAJRC), Hosmat Institute of Neurosciences (HINS) and Hosmat...

Manipal North Side Hospital situated at Malleswaram, Bangalore is a 70 bed hospital renowned for its medical expertise in the areas of General Medicine, Orthopaedics and...

Started in the year 1982, Lakeside Hospital is a Multi Specialty Hospital with updated new equipments having well trained and experienced consultants in various specialties and...
Victoria Hospital is a government run hospital affiliated with Bangalore Medical College now renamed Bangalore Medical College and Research Institute. It is the largest hospital...

Bangalore Endoscopic Surgery Training Institute & Research Centre is a nonprofit organization based at A.V. Hospital, Bangalore, India and is involved in several activities....
Category:
Submit your company info here.