The Chancery
Claim this page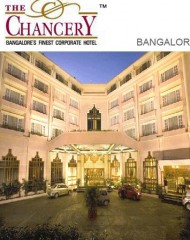 Considered as the finest corporate hotel in the city, the Chancery provides the guests with all luxuries and modern facilities. Starting with the location, to the splendid classic Gothic design, to the exquisitely furnished rooms, 24-hour service, fabulous restaurants, amenities like special business lounges, a fitness center, a beauty salon and a swimming pool.
The Chancery hotel Accommodation
Rooms:
The rooms at The Chancery are a tribute to luxury. There are 126 spacious and well appointed rooms: Superior rooms, Esquire Club rooms, Premier Club rooms and Suites. All are equipped with the finest amenities: DVD player, Wi-Fi internet, hair dryer, tea and coffee maker, luxury toiletries, fax machines, even orthopedic mattresses and cell phones if required. Better still, there are in-room safes and safe deposit lockers in the reception as well as CCTV around the clock. Single ladies rooms and non-smoking rooms are also available.
Premier Club rooms: 23 in all, they take amenities to another level. In addition to the general amenities listed under rooms, the Premier Club rooms also offer the following:
Additional Facilities:
Mini-bar,
Fax machine
Mini-safe
Express check-in,
Fresh fruit basket,
Assorted cookies,
Complimentary breakfast
One way complimentary airport transfer
Welcome drink on arrival
Complimentary flowers and chocolates
Unlimited access to Premier Club Lounge
Suites: There are 7 of them and each two times the size of the Premier Club rooms. What's even more amazing, however, is that the stay for the spouse is free. In addition to the amenities listed under rooms, the Suites also offer the following:
Additional Facilities:
Complimentary stay for spouse
Mini-bar,
Fax machine
Mini-safe.
Express check-in
Fresh fruit basket
Assorted cookies
Complimentary breakfast (for spouse also)
Welcome drink
Complimentary flowers
Complimentary chocolates
Airport pickup/drop
Unlimited access to Premier Club Lounge
PREMIER CLUB
Located on the highest floor of the hotel, this club has been specially created for the creamy layer. It is ideal for corporate as well as personal meetings as it offers some unique business and entertainment options through the day.
Exclusive to Premier Club Lounge:
Business center and secretarial services.
Private discussion room
DVD library
Breakfast and dining area
Light refreshments and beverages
Pool Table
Home Theatre
Library
Board games
The Chancery
' also may find interest in followings . . .

Grand Pavilion is an elegant Business Hotel, positioned for the discerning Corporate Traveler. Situated in the heart of the city and in close proximity to M.G.Road and 40 minutes...

Raaga's Raiin Tree business boutique hotel, is located adjacent to M.G Road off Brigade Road Bangalore.The hotel has 20 well furnished rooms with all modern facilities. Amenities...
The Chancery Pavilion, Bangalore's new-age 5 star luxury business hotel of discerning choice. Set on an elevation amidst the heart of Bangalore's central business district on...
A health club can be invaluable in helping you maintain a regular aerobic and strength training program. But a health club membership can also turn expensive if you aren't careful...
St. Mark's Hotel is a value for money business hotel located in the heart of Bangalore, the Garden city of India. Situated 38 kms from the airport and a stone's throw away, from...

For ten years, Aranha Homes has been offering Serviced Apartments, Luxury Suites, Guest Rooms and Conferencing Facilities in Bangalore. All properties of Aranha Homes are located...

Nalapad Hotel is a landmark in Bangalore city. It has unique architecture and elegant ambience. The hotel with well furnished rooms is known for is high standards of hospitality....
Category:
Submit your company info here.