Mathyoo Residential Apartments
Claim this page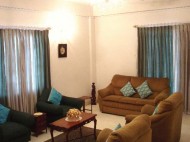 Mathyoo Residential Apartments is a collection of premium apartments which serves as an alternative for traditional hotels with all luxuries and comforts. These apartments with their style quotient are one of the best places to enjoy contemporary lifestyle in Bangalore.
We offer you the privacy and comfort of your own home, with luxury and style - plus some services that you would expect from top hotels.
Our fully furnished serviced apartments, range in size from a single one-bedroom studio penthouse with a terrace garden and a fine view, to an eclectically furnished three-bedroom apartment.
Mathyoo Suites is one of the few serviced apartments in the country owned by professionals. We pride ourselves in giving our guests the best value for money.
Mathyoo Residential Apartments
' also may find interest in followings . . .

D'Habitat Service Apartments Koramangala, Bangalore offers Deluxe 1 bedroom serviced apartments and 2 bedroom service apartments. Our elegantly furnished Luxury service apartments...

The Premium Serviced Apartments saga began well over a decade ago during the massive growth of Bangalore. The management - frequent travelers themselves – anticipated demand for...

Mels Serviced Apartments is the latest landmark in Bangalore`s Budget Serviced Apartments / Homestay/ Hotel Apartments. MEL'S Serviced Apartments / Homestay / Hotel Apartments in...

Alcove offers luxurious & economical service apartments/ hotels in cities of Bangalore, Chennai, Hyderabad, Pune & Coorg, India. We offer a luxurious ambience with world-...

Live Inn serviced apartments Bangalore is equipped with facilities to provide a homely experience to all its guests. It offers luxury and deluxe one, two and three bedrooms con...

Blue Valley's Service Apartments are professionally managed guest houses, situated in seven strategic locations in the city, and available at affordable rates making each...
City Central Service Apartments offers fully furnished, equipped apartment and executive home which are ready to move into. Serviced apartment is created and designed specifically...
Category:
Submit your company info here.