Ramada Bangalore (Hotel)
Claim this page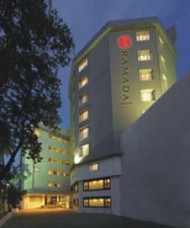 The Ramada Bangalore offers a welcome respite to every traveler, no matter budget or needs. We know that relaxation and refreshment are essential to enjoying a city or being ready for an important business meeting. Our guests reconnect with themselves, continue to be individualistic and enjoy all our amenities. Ramada Bangalore is your home-away-from home. Ramada Bangalore is designed to suit the needs of an on-the-move young executives. The hotel offers 83 comfortable rooms, wi-fi connectivity and a slew of banquet and conferencing solutions.
Rooms:
During your stay we are sure that you will find that one of our rooms will satisfy your corporate requirements or leisure needs.
Banquets:
Four different option for conducting business meetings, seminars, as well as hosting parties, and functions. .
Bar & Restaurant:
A great place to take friends and family for a meal around an open hearth.
Gym:
We have installed a mini gym to help you relax and maintain your fitness whilst away from home.
Ramada Bangalore (Hotel)
' also may find interest in followings . . .

Ramada is known for its hospitality which is of international level. It has spacious rooms that are cozy and comfortable. The hotel is suitable for any kind of stay. The Ramada...

Ginger Bangalore, the best budget hotel, has 99 self sufficient rooms with all the special features of Smart Basics such as Smart space, Safe zone, Meeting Room, Gymnasium and...

Hotel Rama (Hotel Regaalis) located in the heart of the city of Bangalore. Hotel Rama (Hotel Regaalis) is one of the economy hotels in Bangalore that offer good value for money....

The Mark Boulevard Bangalore Hotel is a Boutique Business Hotel in Bangalore that offers the finest in luxury and services that are ideal for business travellers where the rooms...
St. Mark's Hotel is a value for money business hotel located in the heart of Bangalore, the Garden city of India. Situated 38 kms from the airport and a stone's throw away, from...

The Royal Orchid is a high-end luxury hotel. the Royal Orchid has created a respectable place for itself in the industry. All 195 rooms are spacious with a touch of luxury and...

Grand Pavilion is an elegant Business Hotel, positioned for the discerning Corporate Traveler. Situated in the heart of the city and in close proximity to M.G.Road and 40 minutes...
Category:
Submit your company info here.