ClickPoint Solution
Claim this page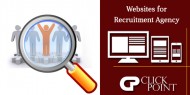 ClickPoint Solution is one of the leading Web Design Consultant Company, Bangalore, India with having more than 10 years of experience. We provide complete web related services includes Domain registration services, Hosting services, Web Designing Service India & Development, WordPress Development Services, Ecommerce website development, website maintenance services, Graphic Designing, Digital Marketing Services India like SEO, PPC, SMO, Lead Generation and Website Maintenance all under one roof.
As you visit '
ClickPoint Solution
' also may find interest in followings . . .

InfiHosting is a leading and reliable Web Hosting India company providing web hosting service. We provide both Linux web hosting service and Domain name registration India service...

Oyaster is a leading Web design and development firm based in Bangalore, India. We are born to provide Creative, Innovative and quality Website Designing Solutions, Web...

A2zdesignwork is a professional website design and CMS SEO web site design services and E commerce Web Development company in Bangalore India. Specialized in custom web designing...

SkillSoft, a leading SaaS provider of on demand e-learning and performance support solutions for global enterprises, government, education and small to medium-sized businesses....

Kaveri Communications is a professional IT company with two main focus areas. The first is Website design and Website development, hosting, maintenance and related activities such...

We provide Housekeeping Services to Corporates, Hotels, Offices etc. Services Facility Management Housekeeping Service Pantry Service Gardening Service Carpet Cleaning Marble /...

Adith Multilingual Services Pvt. Ltd. is one of the leading multilingual organizations in Asia. It provides linguistic services with multifaceted media related activities. Adith...
Category:
Submit your company info here.