Endeavour Software Technologies Pvt Ltd
Claim this page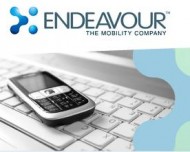 Endeavour Software Technologies is a software development company that provides innovative enterprise software solutions and mobile application development.
At Endeavour, innovation is the engine that drives everything we do. The leading edge software solutions our team has created have been implemented in a broad array of sectors and settings, including consumer packaged goods, manufacturing, energy, retail, surgical equipment logistics, vehicle inspection and servicing, law enforcement, compliance and the banking, financial services and insurance (BFSI) industry.
Our "high-performance business" strategy builds on our expertise in consulting, technology and outsourcing to help clients perform at the highest levels so they can create sustainable value for their customers and shareholders. Using our industry knowledge and technology capabilities, we identify new business and technology trends and develop solutions to help clients around the world
Entering new markets.
Increasing revenues in existing markets.
Improving operational performance.
Delivering their products and services more effectively and efficiently.
Our mission:
Our mission is to serve our clients with engaged responsiveness and an unsurpassed commitment to quality, and to dramatically and measurably impact our clients' profitability and market share through the design and development of innovative software solutions.
Our Vision:
Endeavour strives to energize, streamline, and evolve the banking, mobility, and enterprise verticals with compelling, competitive, and cutting-edge products, end-to-end solutions, and technologies.
Endeavour Software Technologies Pvt Ltd
' also may find interest in followings . . .

The name JIREH is a Hebrew word which means "See and Provide". We at Jireh are a young resourceful team with innovative ideas and an ambition to "provide" the best services in the...

Best of Breed Software Solutions (BBSSL) is a software product and Software services company focusing on BFSI vertical. BBSSL is a zero debt company operating in its own premises...

Software Solutions (P) Ltd. (ESSPL) is an Independent Software Vendor (ISV) offering products, custom software and consultancy to the OSS/BSS domain of Telecom and Converged...

SourceEdge Software Technologies, an ISO 9001:2000 certified company, is a privately held company registered under Software Technology Parks of India (STPI) headquartered in...
(a) Private software technology parks Units having own site measuring 5000 to 10000 sq. ft./ in good locality who propose to set up software technology parks for the purpose of on...

AXCEND is a company specialized in providing end-to-end Manufacturing IT solutions encompassing the entire range of computerized Integrated Manufacturing Platforms. Our...

Graficasoft has carved a place in the world of software development market. It is a technically advanced organization specializing in the field of software development by using...
Category:
Submit your company info here.