IT Tech Solutions
Claim this page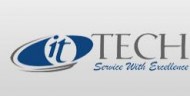 IT Tech Solutions can provide the full range of Products/Services that Information Technology has to offer. This can be Hardware from recognized vendors, web design, hosting, advanced email, marketing schemes, Management Information Systems, Customer relation software or any other bespoke Software/Hardware.
We are Bangalore based web designing company.We offer Web Designing,Software Development,Search Engine Optimization,IT Infrastructure Management,E-Learning System, and outsourcing.
We provide AMC (Annual Maintenance Contract), MMC (Monthly Maintenance Contract) for Servers, Desktops, or any other networks equipments. We provide a full, comprehensive support package for small/medium businesses with a guaranteed response time of either 2, 4 , 6 - 24 hours depending on which best suites your requirements.
We offer a complete range of solutions comprising of custom software programming / development services, off-the-shelf computer software development, web design; e Commerce and online marketing solutions to SMEs and individuals looking for a reliable and long-term partnership. In addition to guarantee impressive cost margin by virtue of our development centers in India.
IT Tech Solutions
' also may find interest in followings . . .

The name JIREH is a Hebrew word which means "See and Provide". We at Jireh are a young resourceful team with innovative ideas and an ambition to "provide" the best services in the...
(a) Private software technology parks Units having own site measuring 5000 to 10000 sq. ft./ in good locality who propose to set up software technology parks for the purpose of on...
Around the globe, Novell is synonymous with leadership in building enterprise-class solutions and in providing premium support for proprietary and open source software. With a...

Webstar is an Information Technology Solutions Company with a passion to offer innovative, cost effective and quality solutions to its worldwide customers. It specializes in the...

SLK Software Services is a software development company, established in 2000, that specializes in providing full cycle IT solutions and services, which deliver significant savings...
Lee & Nee Software (Exports) Ltd. (LNSEL) started its Operation way back in 1989 by developing software for the domestic market and gradually emerged into the international...

Nichi-In specializes in software design and development. We have NDR Co., Ltd., Osaka, Japan as our partner. An 100% EOU, Nichi-In is registered with Software Technology Parks of...
Category:
Submit your company info here.