Klaus IT Solutions
Claim this page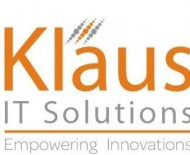 Klaus IT Solutions is a growing entrepreneurial company. We have re-branded ourselves with a goal to build ourselves as a leading IT solutions provider in the embedded and Application software space. A professionally run company with talented and committed workforce that has consistently delivered and is recognized by the leading list of clientele across industries, geography.
Klaus IT Solutions specializes in Staffing Solutions, Recruitment Solutions and Payroll Processing with a strong leadership team in place, creating an important space in the industry for hiring at the Middle, Senior and Executive levels. The Recruitment Team at Klaus IT Solutions comes with an in depth domain experience aligned as per the industry verticals in; Embedded, Automotive, Banking services, Telecom/Mobile, Product Engineering, Aerospace, Enterprise Solutions, Testing Services, IT Infrastructure Services, Renewable Energy,
And focus in Communication Services, Automotive, Aerospace & Defense, Healthcare, Resources, Insurance, Airlines, Banking, High Technology, Utilities, Logistics & Distribution.
Klaus IT Solutions
' also may find interest in followings . . .

Collabera is a fast growing end-to-end IT Consulting, Services and Solutions firm. We focus on IT Services and Solutions, Consulting, Financial Services, Technology,...

Founded 1n 1992, Apara Enterprise Solutions (AES) has grown to be a successful Information Technologies (IT) Systems integrator specializing in integrated network, security and...

Cosmonet Solutions (P) Ltd. is a leading provider of IT services and products across manufacturing, business intelligence and banking & financial verticals. Our flag-ship...

The name JIREH is a Hebrew word which means "See and Provide". We at Jireh are a young resourceful team with innovative ideas and an ambition to "provide" the best services in the...

ConnectM focuses on Telecom, Utilities, Industrial, Construction, IT/ITES Enterprises and Transportation market segments. ConnectM's solutions are powered by cutting edge M2M...

Best of Breed Software Solutions (BBSSL) is a software product and Software services company focusing on BFSI vertical. BBSSL is a zero debt company operating in its own premises...

We are a niche engineering and software solution provider specializing in delivering innovative solutions & services to leading organizations worldwide. Armed with development...
Category:
Submit your company info here.