Ness Technologies (India) Ltd
Claim this page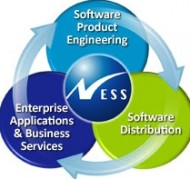 Ness Technologies is a leading IT services provider focused on three key areas: Software product engineering, enterprise applications and business services and consulting, and software distribution.
Services:
The Ness portfolio of global services includes:
Software Product Engineering:
Ness Software Product LabsSM operates dedicated product labs for Independent Software Vendors, high-tech companies and other organizations that build or rely on commercial level software to generate core revenues. We collaborate with client R&D teams to extend their capacity, budget and global reach throughout the product lifecycle.
Enterprise Applications & Business Services:
Ness has deep experience across systems integration, large scale custom application development, consulting, information architecture design and analysis, and business process services that increase performance and decrease the total cost of technology operations.
NessPRO Software Distribution:
Ness acts as a value-added distributor for more than 30 leading enterprise software companies in Asia Pacific, Europe and Israel, enabling them to more efficiently extend their business beyond their core markets.
Ness Technologies (India) Ltd
' also may find interest in followings . . .

Innominds Software is a leading Outsourced Software Product Engineering Services company which provides dedicated engineering teams at global delivery centers that act as virtual...

SkillSoft, a leading SaaS provider of on demand e-learning and performance support solutions for global enterprises, government, education and small to medium-sized businesses....

QuEST Global is a leading provider of diversified engineering services and manufacturing. The company helps customers in the aerospace, consumer electronics, healthcare,...

SourceEdge Software Technologies, an ISO 9001:2000 certified company, is a privately held company registered under Software Technology Parks of India (STPI) headquartered in...

Oracle Financial Services Software has a strong global reach with a sales, marketing and support presence in 27 overseas locations operating under four subsidiaries (Oracle...

Graficasoft has carved a place in the world of software development market. It is a technically advanced organization specializing in the field of software development by using...

SLK Software Services is a software development company, established in 2000, that specializes in providing full cycle IT solutions and services, which deliver significant savings...
Category:
Submit your company info here.