Sree Sanjeevini Solutions
Claim this page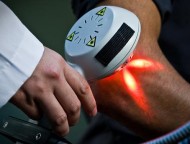 World's Most Advanced, Tested & Proved Cold Laser Technology! First Time in India!
India's No. 1 Pain relief & Quit addiction Laser Cafe. Laser therapy-Healing at the speed of light.
Cold Lasers- Inner Healing & Healthy living…! 90% EFFICACY & SUCCESS IN PAIN RELIEF & QUIT ADDICTIONS!
PAIN LESS! DRUG LESS! HEALING AT THE SPEED OF LIGHT!
ITS NATURAL & FAST RELIEF TO:
Pain Management: Repetitive Strains, Disc Prolapse, Neck/low Back Spondylitis, Ankylosing Spondylitis, Frozen Shoulder, Sports Injuries, Diabetic Neuropathy, Phantom Limb Pain, Rhematoid Arthritis, Migraine/sinusitis Stress, Disturbed Sleep, Inner ear diseases and hearing loss & Tinnitus..etc
Quit Addicitons/detox: Quit Smoking/alcohol/drugs/madhu/gutka/ Substance Abuse
Anti Aging: Hair Loss/Alopecia, Dandruff Pigmentation/acne, Pimples/wrinkles, Skin/body Care, Weight Loss, .etc
Wound Management: Foot Ulcer/gangrene, Psoriasis, Vericose Veins, Post Surgery Sutures/wounds..etc
Psycho-Social Counseling by Eminent Doctors
(100% Peace of Mind & Relationship is guaranteed)
Depression, Tension & Anxiety
Stress, Irritability & Sleep Difficulties
Pre-Marital & Post-Marital Counseling
Relationship Problems & issues
Child & Adolescent Behavioural Problems
Addiction to Gambling, Internet .etc
Benefits of Cold lasers:
Regeneration of Cartilage
Repair of Cells & Tissues
Replacement of Damaged Cells
Rejuvenation
Relaxation
Restoration of blood circulation
Redefining of Health, Naturally
Revolutionary Breakthrough for Heart Diseases.
How to cure heart disease symptoms with cold laser therapy.
Pls call: Sree Sanjeevini Life Lines 8884493272 to 8884493275
Visit www.heartattacklaser.com
Opening shortly
Sree Sanjeevini referral Animal Hospital
Cold Lasers – companion & Equine Healing!
Sadasivanagar
NO SURGERY! NO ADMISSION! NO SIDE EFFECTS!
Branch Office: # 71/1, Ground Floor, "LAKSHMI NIVAS" 17th "F" Main Road, MIG, KHB Colony, Koramangala 5th Block, Bangalore-560095. Ph: 40974944/41142201/41492233 /M: 9866839749/9060465420/9538021350
Sree Sanjeevini Solutions
' also may find interest in followings . . .

We have worlds most advanced Cold Laser Therapy & Biofeedback Equipment's along with renowned Psychiatrists, trained from NIMHANS for treating Addiction of any type. we also...

New Look Laser Clinic is a specialized clinic and is also a part of south Asia's largest chain of Laser clinic. It has started several revolutionary cosmetic laser surgery...

At Reliv Pain Center your pain will be managed by highly qualified physicians formally trained abroad in this upcoming discipline of medicine using state of the art medical...
Heel pain is the most common complaint. Some of the causes are arthritis, tendinitis, bursitis, heel spurs, and plantar fasciitis. Also exercising too hard, wearing the...

To ease toothache or other mouth pain, make a tea by boiling 5g of fresh peppermint in 1 Cup of water and adding a little salt. Peppermint is an antiseptic and contains menthol,...
The jury is definitely in on this verdict. Ever since 1960 when the Surgeon General announced that smoking was harmful to your health, Americans have been reducing their use of...
Tips on Peptic Ulcer Disease Ulcers are "sores" that frequently affect the stomach and the first part of the small intestine (duodenum). Bacterial infection is the most...
Category:
Submit your company info here.