Dhammavani-The Vipassana Radio
Claim this page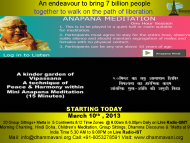 Here is something for every one who have already learned the technique of Vipassana,A wonderful tool to strengthen your Practice. It is free and voluntary like every thing else related to the path. Try it out. It is Vipassana Radio. Its a wonderful medium that makes Dhamma your companion even after you step out of the meditation centre.
And those who are still wanting to learn, Goenkaji has opened door for them in a small way by letting them try it through simple instructions to begin with. Those are also available on dhammavani's home page. Goenkaji called them kindergarten of Vipassana.
As you visit '
Dhammavani-The Vipassana Radio
' also may find interest in followings . . .
The residents of the Swaminathan home are still in mourning. His parents and brother are still trying to figure out why their son, J.Swaminathan, a 26 year old, brilliant,...
Remember the radio? The forgotten gadget that gave us news bulletins and film songs? The centre-piece of every living room before television relegated them to attics and...

Bangalore, July 15, 2014: Consulate General of Israel announced that travelling to Israel is made more inviting and has started issuing visas for Business/Tourism (B2) and Student...
Existing small and medium scale units (at least for 2 years) with food track record and sound financial position are eligible for financial assistance to undertake various...
HOW IMPORTANT IS YOUR HEALTH ? Allergies, Asthma, Sneezing & Sinusitis can strike any time, will do more harm. Beds, Sofa & Carpets are home to millions of microscopic...
This great saying about one's faith and will power is equally appreciable to an ordinary individual who is aspiring for success in life. In the words of Vernon Howard. 'Every man...
KSIIDC provides medium and long term loans for projects planned in Karnataka. Loans are made a vailable for setting up of new projects as well as for expansion, modernisation or...
Category:
Submit your company info here.