Cosmos Tools
Claim this page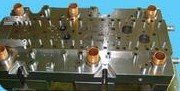 Designers & manufacturer of progressive lamination dies.
Our extensive experience coupled with our sophisticated & upto date machinery make us your ultimate partner for designing & construction of high precision progressive stamping tools, precision stamping components, Jigs & Fixtures, Tool & Die Making etc....
We specialise in Progressive Lamination Dies, Compound Blanking Lamination Dies for large Alternators and Hydro Electric Dynamos. We can do Autostacking of Lamination in Die itself. We make high speed progressive Carbide Dies for motor stamping.
Cosmos Tools
' also may find interest in followings . . .
Hari Prakash Precision Tools & Components Pvt Ltd Agricultural Equipments Agriculture, Farm Machines & Tools Suppliers
Carto Prints Pvt. Ltd. Specialised In Offset, Letter Press, Screen Printing, Gravure Printing, Foil Stamping, Uv Coating, Aqua Coating, Blister Varnishing, Lamination, Window...
Business and Services: Manufacturers Of Dies Moulds (jigs & Fixtures)
Business and Services: Machine Elements, Jigs & Fixtures Dies, Jigs, Fixtures.
Ashwini Tools & Components is a leading manufactures of all kinds of quality press tools, press components, Auto Components, Deep Drawn Components, Sheet Metal, Computer...
Business and Services: Manufacturers of Jigs, Fixtures Adn Dies.

Intex Tools & Components Pvt. Ltd. is a Leading Manufacturing and Exporting, Gears, Gear Boxes, Automotive Parts, Components & Spares, Reduction Gears, Gear Cutting and...
Category:
Submit your company info here.