EduMark Realty Education Services
Claim this page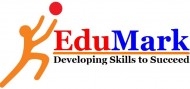 EduMark is a vocational education and training (VET) organisation that specializes in skill and knowledge development of youth for employment in real estate and allied sectors. EduMark offers job oriented as well as professional development courses for real estate, housing finance and allied sectors. Its prime activity is to assess skill gaps among unemployed youths and develop their skills as per the requirements of employers. EduMark is the first and only real estate education and training organisation that offers job oriented courses in various specialised areas of real estate and allied sectors.
EduMark currently offers short term courses in the following areas, for those looking for employment and job opportunities in real estate.
Property Sales & Transaction
Real Estate Management
Property Laws
Real Estate Marketing
Starting a Property Consulting Business
Planning & Starting Real Estate Development Projects
Land Bank Development
Land Procurement
Facility Maintenance
Facility Operation & Management
Certificate Course in Home Loan Counseling & Marketing
Certificate Course in Home Loan Counseling (Operations)
EduMark Realty Education Services
' also may find interest in followings . . .

Real estate markets all over India have been completely obtaining a working because this past year and then house product sales in its total possess struggled. Over the...

Discover spacious homes at ideal locations. Best of facilities, ample greenery, state of the art amenities...all this and much more at the residences we build keeping you and your...

TATA Housing, one of India's leading Real Estate Developers is a closely held Public Limited Company and a subsidiary of TATA Sons Limited. TATA Sons Limited holds 99.78% of...
Business/ Services: Tour Operators

DS-MAX: well known builders and developers Bangalore. which deals in Real Estate. DS-MAX PROPERTIES is a known brand in Bangalore for real estate development. The projects are...
Business and Services: Tour Operators
Business and Services: Tour Operators
Category:
Submit your company info here.