Meghana Homes Pvt. Ltd.
Claim this page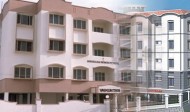 Meghana Homes Pvt. Ltd., incorporated four years back to undertake real estate development as its core business activity, today stands on a foundation of enterprising vision and professionalism building major residential landmarks in Bangalore, by focusing on uplifting the overall ambience and appeal of the entire neighbourhood with their projects.
Headed by Mr. C. Prasad, Meghana Homes believes in implementing the concept of quality, comfort and utility, which have become the benchmark for any buyer today, more so in case of residential clientele.
Today Meghana Homes has become synonymous with Quality, Uniqueness, Perfection and Brilliance in the Construction Industry.
The company's commitment to quality has earned itself a solid reputation, the trust of future customers, and most importantly the satisfaction of past customers. The company's landmark projects include:
Shikharam
2 and 3 bedroom flats on Varthur Airport Road, close to Marathalli.
Vaikuntam
2 and 3 bedroom flats at AECS Layout, close to Brooke Fields.
Meghana Homes launches another project GOVINDAM with 2 and 3 bedroom luxury flats with modern amenities on Varthur Airport Road. The project is designed by Mr. Dinesh of Maheshchandra Associates who specialize in Township Planning and Multistoried Apartments.
Meghana Homes Pvt. Ltd.
' also may find interest in followings . . .

Smart Spaces, one of the housing initiatives promoted by Damden Properties, launches its first initiative of "No Frills Homes" in Bangalore, targeted at young Indians and first...

Surakshaa homes has made a concrete presence in the world of lifestyle construction through its innovative offerings of residential complexes and service apartments. At Surakshaa...

Mythreyi is a company that has grown from strength to strength with an impeccable track record of having delivered quality residential and commercial projects. Mythreyi promoters...

For ten years, Aranha Homes has been offering Serviced Apartments, Luxury Suites, Guest Rooms and Conferencing Facilities in Bangalore. All properties of Aranha Homes are located...
Meghana Holidays specialised to provide you the best travel services including indian tour packages like wildlife safari tours, golden triangle tour, Buddhist pilgrimage tour,...

Faith Inc. is a Bangalore based company which has ambitions in building world class apartments in Bangalore with its operations in real estate development. With multiple...
Hospitals and nursing homes are eligible for financial assistance upto Rs. 240.00 lakhs for corporate bodies and Ts. 120.00 lakhs for proprietary/ partnership concerns/ trusts,...
Category:
Submit your company info here.