Toscano (Italian Restaurant)
Claim this page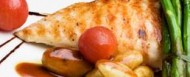 Italian culture is synonymous with passion, more so with their art of foot. Combining the bleakest of ingredients with rich complements - the Italian way is the bolder the better. Whether it's the finest smoked salmon tartar paired with crispy apples and mustard, or fine parma ham with succulent melons, mozzarella and figs, Toscano does not disappoint in stepping up to the plate. Their house salad lends a savoury note with crispy lettuce leaves and garlic croutons doused in a creamy Caesar dressing made complete with their pesto grilled chicken. The signature salad is almost a three course meal in itself, without overburdening your palate. Goat cheese paired with pears and the spicy crunch of bell pepper served in an assemblage of red wine, olive oil, vinaigrette and balsamic mixed greens. Take a bow Toscano!
Three locations:
Toscano - U.B.City, The Collection - U.B. City, Level II, Concord Block, 24, Vittal Mallya Road, Bangalore Ph: +91-80-4173 8800
Toscano - Whitefield , Forum Value Mall 2nd Floor, Whitefield Main Road, Whitefield, Bangalore Ph: +91-80-2593 9224
Toscano - Orion Mall, Brigade Gateway,
26/1 Dr. Rajkumar Road Malleshwaram West, Bangalore - 560055 Ph:+91-80-2268 2055
Toscano (Italian Restaurant)
' also may find interest in followings . . .

With a distinctly Parisian feel is Toscano which specializes in Neopolitan food. The restaurant showcases the city's weather, with its open and friendly great ambiance. Whether at...

Spread across 680,000 square feet, the Forum Value mall is a one-stop shopping destination that houses factory outlets, supermarkets as well as a cinema. It is a home to brands...

The Collection is India's first luxury retail mall. UB City's spire dominates Bangalore's skyline. The magnificence of the while Italian marble and dazzling chandellers is hard to...

The Zuri Whitefield is one of the finest 5-star business hotels in the city. The hotel boasts 162 rooms (2 Presidential and 4 Executive suites) and 5 F&B outlets, including a...

You can change your life with Reflexology Why choose Reflexology? Offers a natural, drug-free therapy option for a variety of health problems Helps recovery from injury,...

It is one of the best shopping malls in Bangalore. It is located in Hosur Main Road, Koramangala. This is the largest shopping mall of Bangalore . The international brands like...

A mall envisioned by the world's leading mall planners and dedicated to life's connoisseurs. Orion oozes indulgence with 146 brands across 4 floors and eight and a half lakh...
Category:
Submit your company info here.