Chrysalis High - Horamavu Banaswadi
Claim this page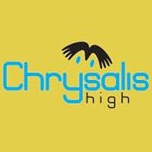 Chrysalis High, Horamavu Banaswadi is located just behind Horamavu lake on the Old Flour Mill Street, about 3 KM from the ring road.
Spread across about 2 acres, the campus boasts of Semi Olympic size Swimming Pool, Basketball Court, Skating Rink, a Football Ground & a beautiful play area for Pre Primary children. Chrysalis High, Horamavu follows the CBSE syllabus.
Chrysalis High - Horamavu Banaswadi
' also may find interest in followings . . .

Chrysalis High is a chain of co-educational schools in Bangalore. The schools are located at Varthur (Marathahalli – Sarajapur Road), Yelahanka New Town, Whitefield – Kadugodi...

Chrysalis Hub is a Children's Centre that caters to the needs of the family; our services include Creche for small children, Daycare for school going kids, Toddler Progam,...
The name is because it is perched 20 feet high from the ground, under a spread of trees. The accent is on Continental, but stick to the sizzlers, pastas and bakes. Type of food...

Capstone High is a brand new educational institution, but with a wealth of experience, that goes to great lengths to provide your child a solid head start. Conceptualized and...

Sportz Arena the future is now in sight! After 40 years of quality service Olympic The Sport Shop is now relaunching as Sportz Arena With state of the art stores to provide the...
Name Address Area City A P High School 0.297222 Ashoka Puram Bangalore A S B Govt. Junior College - Anekal Bangalore A U High School - Palace Guttahalli...
Stroke: What are the warning signs of stroke? Stroke is our nation's No. 3 killer, and one of the leading causes of disability. Almost every minute someone in America has a...
Category:
Submit your company info here.