Kinder Wonder Pre-school
Claim this page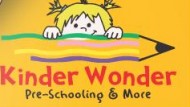 Kinder Wonder is dedicated in enriching Children's growth
UKG, LKG
Pre School
Nursery
Baby Care
Activity Centre
Children mean the world to their parents.
At Kinderwonder's Daycare Centre
We ensure a clean and happy environment for your child
One caretaker for two children makes sure that your little one is taken care of just the way you like.
Two locations:
No. 7, 6th Cross, Kuvempu Layout
Devasandra, K.R. Puram
Bangalore 560 036
Phone: +91 92438 74012
No. 720, 1st Block, 4th B Cross
Kalyan Nagar, Bangalore 560 043
Phone: +91 96327 29845
Kinder Wonder Pre-school
' also may find interest in followings . . .

Admission open Play Group Nursery LKG UKG 18 mon – 3yrs 3yrs – 4yrs 4yrs – 5 yrs 5 yrs – 6 yrs Daycare (Up to 7.30pm) Our Bright kid after school Day care Program in each...

Place your child SAFE HANDS while you are at work. Pre-school with Day Care (1-10Yrs) Happy Kids Day Care Centre The Right Place For Kids Where tradition meets technology. The...

The Bangalore Children's Hospital is a not for profit organization dedicated to improving health and quality of life in children through its various programs in healthcare,...

"Spring has sprung, the grass has ris" (Anon), "we all know where Trio World School is" This seemed like an excellent way to start to speak of the Trio World School Spring Fest...

Mud Pie is a new and unique initiative of pre-schools where in children are provided a natural atmosphere for learning. Our inimitable activities have been thoughtfully tailored...
Caramel High School is a learning community of excellence, allowing students of different language skills to become independent learners and effective communication. The school...
Surakshaa Car Care Centre is a Maruti-Suzuki Motor Car Service Centre in Electronic City, Bangalore.
Category:
Submit your company info here.