Gopalan Mall
Claim this page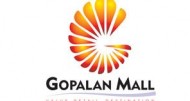 After a strong hold in residential we at Gopalan have ventured in commercial and successfully completed projects like Millennium Towers in Brookfields were we have renowned clients like Transworks and i-Flex and also we have a commercial project called Promenade in Banashankari 3rd Stage which is completed and we have Big Bazaar as our client and that is when we stand up and bring to the people of Bangalore the 3 ways to shop with us.
If you get tired by shopping from store to store then this mall is the most preferred destination . You can get a variety of stores under one roof in this shopping mall.
Gopalan Mall
' also may find interest in followings . . .
This two-story store shopping mall is situated on the Victoria Road . This is a new shopping mall in Bangalore and has already won the hearts of the citizens. The shops of the...

Mantri Mall is the second largest mall in Bangalore, with over 250 stores spread out across one million square feet. The mall has a food court sprawled over the top floor and six...

The Forum Kannada: is a popular shopping mall located on Hosur Road in Koramangala, Bangalore city in Karnataka, India. The Mall is popular among the youth in Bangalore and an...

This shopping mall in Brigade Road is the ideal destination for perfect entertainment . All the leading stores of a wide variety of brands is available in this shopping mall . It...

It is one of the best shopping malls in Bangalore. It is located in Hosur Main Road, Koramangala. This is the largest shopping mall of Bangalore . The international brands like...

Garuda Mall, located near Brigade Road, is one of the first few malls developed in Bangalore. It included six floors of shopping and entertainment space, comprising a food court...

Cosmos Mall, an idea of FUTURE GROUP, has become a prominent shopping hub of Bangalore. The Mall comprises an ideal mix of Lifestyle and value brands. Some major brands present...
Category:
Submit your company info here.