Gopalan Signature Mall
Claim this page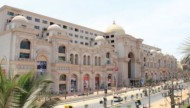 Situated in a prime location opposite RMZ Infinity, the almost regal architecture of this mall is striking. Spread over 350,000 square feet and four floors, Signature Mall houses a Chumbak Store and an Apple Store besides Lifestyle and Shopper's Stop for apparel and footwear. You can grab some food at the food court, at restaurants like Benitos and Red Bowl, or hand out at the resident breq pub, 3 Monkeys. The bowling and gaming arcade is perfect for a fun day out with friends or family.
As you visit '
Gopalan Signature Mall
' also may find interest in followings . . .

Mantri Mall is the second largest mall in Bangalore, with over 250 stores spread out across one million square feet. The mall has a food court sprawled over the top floor and six...
The brainchild of Ascendas business space solutions, Park Square is a sprawling 450,000 square feet retail, entertainment and gourmet destination. Apart from a 24,000 square feet...

Royal Meenakshi Mall, located diagonally opposite the famous Meenakshi Temple, houses several international brands like The Body Shops, Louis Philippe, Levi's and America's...

Esteem Mall is located in North Bangalore and covers an area of 125,000 square feet. Spread across four levels, it houses several stores for a range of products including apparel...

Garuda Mall, located near Brigade Road, is one of the first few malls developed in Bangalore. It included six floors of shopping and entertainment space, comprising a food court...
This two-story store shopping mall is situated on the Victoria Road . This is a new shopping mall in Bangalore and has already won the hearts of the citizens. The shops of the...

Spread across 680,000 square feet, the Forum Value mall is a one-stop shopping destination that houses factory outlets, supermarkets as well as a cinema. It is a home to brands...
Category:
Submit your company info here.