Inorbit Mall
Claim this page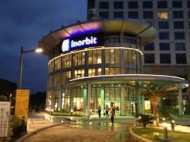 Inorbit is a great destination for fashion, lifestyle, food and entertainment. From fashion and lifestyle stores like Shopper's Stop, The Body Shop and Converse to HyperCity for furniture and groceries, Inorbit offers ample choice to the consumer. Inorbit also houses Artea Matters, a tea room that doubles up as a music and art centre. You can also keep yourself entertained at Foin XD Cinema, indulge in sinful, sweet treats at the Whitefield Baking Company or sip on cocktails at M Bar.
As you visit '
Inorbit Mall
' also may find interest in followings . . .

Lifestyle International (P) Ltd is part of the Landmark Group, a Dubai - based retail chain. Lifestyle, positioned as a trendy, youthful and vibrant brand that offers customers a...
HyperCity mall is from the finest hyper market chains in India. It offers a truly international shopping experience with all those contemporary products from international markets...

Mantri Mall is the second largest mall in Bangalore, with over 250 stores spread out across one million square feet. The mall has a food court sprawled over the top floor and six...

Spread across 680,000 square feet, the Forum Value mall is a one-stop shopping destination that houses factory outlets, supermarkets as well as a cinema. It is a home to brands...
This two-story store shopping mall is situated on the Victoria Road . This is a new shopping mall in Bangalore and has already won the hearts of the citizens. The shops of the...

Cosmos Mall, an idea of FUTURE GROUP, has become a prominent shopping hub of Bangalore. The Mall comprises an ideal mix of Lifestyle and value brands. Some major brands present...

Respectfully Yours... Manyavar - A pioneer and a leader in men's Indian ethnicwear. It is a name to reckon with. With the belief of "Earn Your Respect, this national brand...
Category:
Submit your company info here.