Party Hunterz
Claim this page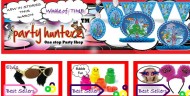 They are stocked up on everything you can possibly want for your party, from LED ice cubes to brighten up your drinks to polka-dotted balloons and head-to-toe costumes.
As you visit '
Party Hunterz
' also may find interest in followings . . .

Melodies woven out of silk. Blended with alluring designs, intricate patterns and delicately crafted motifs for accompaniment. A perfect tribute to the beautiful woman the world...
Who would have ever thought bowling could be a party. Blu-O in Orion Mall- offers a quirky blend of sport and entertainment. Here's something for the bowling fanatic, 27 lanes to...

Your go-to place for masks, return gifts and snow spray! They have branches all over the city, so you should find it easy to give them a call.

They're not happy until they see you party till you drop. Optimus has taken on the Bangalore party world by digitalizing the entire scene: we're talking online tickets to events,...

Summer Camp 9th April onwards Three fun filled weeks 2 to 3 yrs: Discovers 3 to 5 yrs: Explorers 5 yrs & above: Inventors Fun time learning about underwater worls, art &...

GroupTable.in is one of a kind, fine dining platform that connects diners with best of fine dining restaurants in India. We work to save money for diners even as they discover new...

Ripple Head Inc. is a Web Solutions agency based in Bangalore offering a wide range of services including Web Designing, Identity/Logo Creation, Content Development, Website...
Category:
Submit your company info here.