AA Car Rentals
Claim this page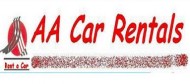 AA Car Rentals is a reputed car rental service provider in Bangalore. We are known for our excellent and efficient car hire services at Bangalore like airport transfers,hourly package for corporate executives to attend meetings, conventions, weddings, social events.we offer all travel related services under one roof.
Our core values:
we are committed to ensure honest and ethical business practices which keep the customer in mind and priority. Our entire Endeavour is to be transparent and provide the best services in the industry. Happy and satisfied customers are our forte. They contribute to major referrals and ensure our business grows on our service credentials.
Services:
Car Rentals.
Tour Operators.
Car Rental hire & Leasing.
Tours & Travels.
Corporate Rentals.
Airport Taxi Services.
AA Car Rentals
' also may find interest in followings . . .

Sri Balaji Tours & Travels is a Bangalore based firm. It has been engaged in providing a variety of services for the corporate world and tourists coming from different parts...
S.R Tours and Travels Car Rentals and Air ticketing Services located in Banglore (India), has become a prominent name in the travel tourism industry, ever since its inception 10...
Shanmuka cabs, a reputed car rental service provider in Bangalore and the fastest city taxi service in the city. Book a Cab with one among the experienced cab service provider....

InfiHosting is a leading and reliable Web Hosting India company providing web hosting service. We provide both Linux web hosting service and Domain name registration India service...
We are one of the Pioneer IATA Accredita Ted Travel Agents for all your Travel needs. Nisarga Tours & Travels ® (NTT).has been serving customer needs since 1999. Originally...
Since 1996, Orion has been dedicated to providing professional and cost efficient travel & leisure services. With over 30 years of international industry experience within its...
Suhalaya Travels Pvt Ltd (STPL) is a leading car hire & leasing service provider for both private and corporate clients at Bangalore which offers budget car hire and leasing...
Category:
Submit your company info here.