Clarks Exotica Resort and Spa
Claim this page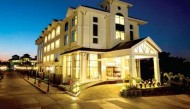 Spend the weekend packed with fun, frolic and family at Clarks Exotica Resort and Spa.
Instead of hopping on that plane to fly out of town for a vacation, how would you like to get away without getting away? The Clarks Exotica Resort and Spa, housed only 5 minuted away from the airport, makes this possible. In between the rush and rucks of the city, lies 70 acres of secluded calm overflowing with divine comfort. Whether it's an event, wedding, conference or just a weekend getaway, the resort caters to every urban need. The rooms are signature in design with a splendid view of the planes landing and taking off.
Relax
The feature that stands out most at the Clarks Exotica is the secluded spa, away from the main hotel building. The Seventh Heaven wellness spa emphasizes on healing, using treatments that date back to thousands of years. With a range of niche massage therapies, Seventh Heaven provides a rejuvenating experience. The spa also caters to an arm and a leg, ancient royal rituals which gives you the opportunity to bask in high living.
Activities
If you want to do more than just loll about the lawns, there are a host of outdoor and indoor activities to allow you to pump some adrenaline. With lavish tennis courts, squash, golf putting, water polo and indoor games like billiards, badminton and snooker, that makes the resort that much more desirable for even just a weekend escape.
Indulge
While you have built up your appetite, take the chance to indulge in the resorts finest restaurants for an authentic dining experience. The resort also pays heed to your children's special needs. The Staggering choices of indoor and outdoor game zones that are specially designed to be safety-centric allows your to kick back and enjoy your cocktail. Since there is no bustle without the fitting food, Clarks Exotica has a specialty fashioned menu for those children who are fussy eaters, keeping their nutritional needs in mind. Above all, the state-of-the-art aspect of the resort is the junior spa for the rug rats, where special treatments are utilized to pamper the delicate young skin.
Brunch
The Sunday Brunch at Clarks Exotica is sure to perk up your mood from yawn to yay! With the all you can eat buffet and the options to snooze, laze, swim, slurp and slide, the Sun Brunch is a great way to make sure there's fun for you and your family.
So if you haven't already cleared out your calenders, get to it.
Clarks Exotica Resort and Spa
' also may find interest in followings . . .

Greetings From Solitaire Group! The Group SOLITAIRE HOSPITALITY SERVICE Apartments is a renewed group known for its hospitality services it provides throughout Bangalore. We have...

Your vacation depends upon the book that tells you where to go; it's called your cheque book. If you think money can't buy you happiness, it can certainly buy you a one of a kind...

Proud hosts of the first ever European Ladies Masters Golf Tour in India… Golf 132 Rooms for Accommodation Indoor & Outdoor Leisure Activities Multi-Level Swimming Pool...

Guhantara is a cave resort first of its kind in Bangalore, Karnataka. Banashri Creative Softwares is pleased to present GUHANTARA ....the first review of a resort which is the...

Ramanashree for Leisure- Be Bright all day Try a different meal in a different restaurant! So, now you can. Weekend or weekday. Business or pleasure. At out three delectable...

Marriages are made in Heaven and celebrated at Vijayshree! Marriage is a once-in-a-lifetime event. Celebrate it the way you always dreamt because those moments will be with your...

Manipal County is a resort located on outskirts of Bangalore (Karnataka, India) just off the Hosur Road in close proximity to the Electronic City at 20 kms South of Bangalore...
Category:
Submit your company info here.