Guhantara Resorts
Claim this page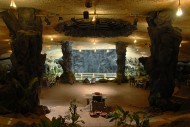 Guhantara is a cave resort first of its kind in Bangalore, Karnataka. Banashri Creative Softwares is pleased to present GUHANTARA ....the first review of a resort which is the first of its kind in the whole of Asia.
A monumental innovation and creation of R-Square Designs Pvt. Ltd., is an architectural master piece. It is a Eco Tourism location that is cozily perched underneath the ground, situated on Kanakapura road and within the reach of Bangalore city. Built meticulously in an area of 3.5 acres.
A resort with a cave dwelling theme is situated in a place full of adventures. It is the first cave resort of India. It is a nice weekend getaway and an opportunity to have an experience of lifetime close to nature.
Guhantara Resorts
' also may find interest in followings . . .

Spend the weekend packed with fun, frolic and family at Clarks Exotica Resort and Spa. Instead of hopping on that plane to fly out of town for a vacation, how would you like to...

Greetings From Solitaire Group! The Group SOLITAIRE HOSPITALITY SERVICE Apartments is a renewed group known for its hospitality services it provides throughout Bangalore. We have...

Your vacation depends upon the book that tells you where to go; it's called your cheque book. If you think money can't buy you happiness, it can certainly buy you a one of a kind...

Marriages are made in Heaven and celebrated at Vijayshree! Marriage is a once-in-a-lifetime event. Celebrate it the way you always dreamt because those moments will be with your...
Procupine Castle is a resort in The heart of Coorg. The resort in the midst of nature and plantations offers independent cottages with comfortable room s and picturesque view of...

Ramanashree for Leisure- Be Bright all day Try a different meal in a different restaurant! So, now you can. Weekend or weekday. Business or pleasure. At out three delectable...

Proud hosts of the first ever European Ladies Masters Golf Tour in India… Golf 132 Rooms for Accommodation Indoor & Outdoor Leisure Activities Multi-Level Swimming Pool...
Category:
Submit your company info here.