Procupine Castle
Claim this page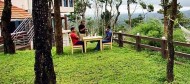 Procupine Castle is a resort in The heart of Coorg. The resort in the midst of nature and plantations offers independent cottages with comfortable room s and picturesque view of the valley. The resort provides easy access to places like Nagarhole National Park, Tala Cauvery and Tibetan Settlement at Bylukkupe.
Facility:
The Porcupine Castle is straddled by a 300 acre coffee and spices estate and perched atop a hill. The views from Drango, the Restaurant is spectacular providing as it were, a 360o panorama.
This is the place for nature Worshippers, honeymooners, families and indeed the overworked executive.
As one drinks in the view, one may catch a glimpse of the rare and majestic Serpent Eagle or the equally rare Draco – a winged, flying lizard. The Resort is girdled by a swath of fields and forests that fade into blue haze mountains. The weather is delightfully tempestuous but thoroughly enjoyable.
Eleven Chalets and a tree house (we call it 'The Nest')along the hill offer panoramic views. Each dwelling accords city like luxury so you never feel far from home.
Pathways to and from the Chalets have a delightful mix of over 26 varieties of bamboo (both native and imported) and a colorful spray of lantana. In season, myriad butterflies in striking colours flit in social whim while the darting and chatter of birds provide a symphonic ochestra no human can match. The silence that reigns here is supreme, save the chatter and the whistling of the wind.
Procupine Castle
' also may find interest in followings . . .

Greetings From Solitaire Group! The Group SOLITAIRE HOSPITALITY SERVICE Apartments is a renewed group known for its hospitality services it provides throughout Bangalore. We have...

Guhantara is a cave resort first of its kind in Bangalore, Karnataka. Banashri Creative Softwares is pleased to present GUHANTARA ....the first review of a resort which is the...

Alcove offers luxurious & economical service apartments/ hotels in cities of Bangalore, Chennai, Hyderabad, Pune & Coorg, India. We offer a luxurious ambience with world-...
Native Village is 100 percent eco-friendly, back to basics, lifestyle resort located 22 kms from Bangalore (Karnataka, India). Native Village is a place that provides a respite...

Ramanashree for Leisure- Be Bright all day Try a different meal in a different restaurant! So, now you can. Weekend or weekday. Business or pleasure. At out three delectable...

Blue Valley's Service Apartments are professionally managed guest houses, situated in seven strategic locations in the city, and available at affordable rates making each...

And on earth we recreate heaven for you. All you have to do is to decide when, where and how. Be it a scenic summer ranch in the midst of nature, a regal English castle recreating...
Category:
Submit your company info here.