Bodycraft Spa and Salon
Claim this page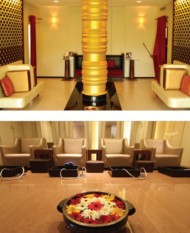 For over two decades, the Bodycraft Spa and Salon has been a reputed name for cutting-edge styling, hair and skin care services. Spread across five avant-grade facilities and covering over 40,000 square feet, their combination of research and skill have given them a patronage of over 80,000 clients from different walks of life.
Their mantra is to ensure that guests feel beautiful both inside and outside. The team works to achieve this by delivering premium world-class hair and beauty services in an environment that encourages growth, transparency and trust. The team is trained to be among the best in the industry. The Bodycraft Spa and Salon is also associated with a series of international product networks, such as Wella International, Ainhoa, Dermalogica, Babor and many more.
The establishment has bagged several awards under Creative Department head.
Swati Gupta whose meticulous attention to detail has made her the most sought-after name in the industry. A certified makeup artist, she has trained with reputed national names like Marvie Ann Beck as well as international institutions such as Greasepaint Academy, London.
Bridal Packages
Bridal make-up and hair styling have always been Bodycraft's forte. Today, they have evolved into a complete service provider for the entire wedding party covering a comprehensive range of pre-wedding treatments and professional make-up with hair styling for the special day.
While most people opt for grooming treatments closer to their big day, Bodycraft encourages a more holistic approach to therapy by beginning months before, in the form of customised, pre-bridal packages. These include treatments for hair, skin, hands, feet and the body that begin 8-10 weeks before the wedding. They also recommend a consultation with the dermatologist at the Bodycraft Hair, Skin and Cosmetology Clinic, headed by Dr. Sushil Kr. Gupta and Dr. Mikki Singh and can avail of benefits from clinical treatments like instant chemical peels and lasers for glow, blemishes, pigmentation and hair reduction.
The bridal package itself includes trial make-up and hairstyle sessions, bridal make-up and bridal hairstyles, as well as the final donning of bridal wear and jewellery. Some popular bridal looks are the Traditional South Indian Bride, the Contemporary Bride, the Indo-Western bride, the Mughal bride and the Classic Bride. All services make use of high-quality cosmetics only.
Discover a beautiful you at the Bodycraft Spa & Salon
FRASER TOWN
1/3, Civil Station, Assaye Road, Near Ulsoor Lake,
Fraser Town, Bangalore - 560042
CONTACT NUMBERS
T: (080) 41573044, 25514596
M: +91 99002-48360
JAYANAGAR
10/1, Mariyappa Road, After Parikrama School, Ashoka Pillar,
1st Block, Jayanagar, Bangalore - 560011
CONTACT NUMBERS
T: (080) 40951444 / 45
M: +91 99002 48359
INDIRANAGAR SPA & SKINCARE
777 R, 1st Cross, 13th Main, Opp. New Horizon School,
HAL II Stage, Indiranagar, Bangalore - 560 008
CONTACT NUMBERS
T: (080) 41469944 / 45
M: +91 99002 48358
INDIRANAGAR SALON
777/A, 3rd Floor, K P Tower, 100 Ft. Road,
Indiranagar, Bangalore - 560008
CONTACT NUMBERS
T: (080) 41665256 / 57 / 58 / 59
M: +91 99000 59344
SKIN & COSMETOLOGY CLINIC
2nd Floor, Bodycraft Annexure building, 10/1, Mariyappa Road,
Near Ashoka Pillar, 1st Block, Jayanagar, Bangalore - 560011
CONTACT NUMBERS
T: (080) 40933371 / 72
M: +91 99000 76300
Bodycraft Spa and Salon
' also may find interest in followings . . .

Melodies woven out of silk. Blended with alluring designs, intricate patterns and delicately crafted motifs for accompaniment. A perfect tribute to the beautiful woman the world...

Yvollanda's Spa & Beauty Salon a trend setter in Kalyan Nagar Bangalore is a certified L'Oreal Club Salon for Men and Women Sothys Paris and Janssen German Facials / skin and...
UBER international is a total beauty destination, offering services like anti-aging facials, laser hair removal, body contouring, full body massages, hand and foot treatments,...

Welcome to a life style filled with Health, Glamor & Style. Affinity International Body science Redefined ISO 9001: 2000 Certified Premium centers for Slimming, Beauty, Skin...

Skin Deep The fairer sex is well ahead of most guys when it comes to skin care since most men tend to hang onto their masculinity at the risk of ignoring their skin. Biologically...

New Look Laser Clinic is a specialized clinic and is also a part of south Asia's largest chain of Laser clinic. It has started several revolutionary cosmetic laser surgery...
Bangalore's Wedding Designs Spirited, daring and distinct, Deepika Govind's, bridal collection, 'A Doll's House', is a tribute to the woman of today. Drawing inspiration from...
Category:
Submit your company info here.