Eternal Expression Tattoo and Piercing Studio
Claim this page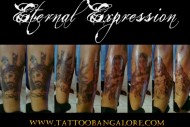 We at Eternal Expression, The Bangalore Tattoo Parlor and Piercing Studio, are passionate Tattoo Artists and Piercer's, equipped with world class Tattoo and Piercing Equipment, Best imported Tattoo Inks and gifted skills.
We meet world hygienic standards for a Tattoo studio, To make sure you have a memorable Tattooing experience. Coz Tattoo's are for a lifetime...
Featured in the news9 story Latest Trends In Tattooing : 3d Tattoos In Bangalore
Eternal Expression Tattoo and Piercing Studio
' also may find interest in followings . . .

InkPrik is a tattoo studio run by Sai in Cambridge Layout. Sai had been trained under Lancelot Willie, one of the leading tattoo artist of Guyana - South America. Sai is not only...
Ear Nose and Body Piercing done safely, hygienically and painlessly by medical doctor in Bangalore. Piercing available for babies, men and women. Please refer our website for...

Home is where the art is Studio Palacio True to its name. Studio Palacio is a unique interior designing concept - where traditional period and contemporary art come alive in your...

When it comes to designing an interior space, it's often the window treatment that can take a room from just so-so to absolutely spectacular. Which is why, at Linens Studio, we...

Addressing all out-of-doors needs. Outer Space Studio creates the perfect open air settings for customers. With a keen eye on design and style, their products are specially...

Every truly patriotic Indian is expected to bring at least five decent Bollywood moves to the dance floor. And with new Item numbers releasing every week, Bollywood classes...

Sleek designs for your kitchen Nolte Home Studio, the 85-year-old German interior designing company, that specialises in kitchen and bedroom solutions for your home has a classy...
Category:
Submit your company info here.