Lourd Vijay's Dance Studio
Claim this page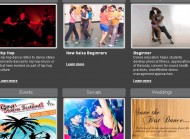 Every truly patriotic Indian is expected to bring at least five decent Bollywood moves to the dance floor. And with new Item numbers releasing every week, Bollywood classes promise to pep up what might have otherwise been a dull exercise routine. It going the hardcore, classical route isn't your thing then why not try a Bollywood dance lesson that blends western rap. The Lourd Vijay Dance Studio caters to the calorie conscious, and is the place to get your Jhatkas right! Besides the run of the mill Bollywood class, the LVDS also conducts Bolly-Hop classes: a cocktail of all Things filmy, fun and desi.
A heartfelt plea to all the macho machas in Bengaluru: every girl an the dance floor appreciates a man who can move it the Hrithik Roshan way so please do all us women a favour and brush up on your Bollywood moves, instead of head banging your way through parties!
Lourd Vijay's Dance Studio
' also may find interest in followings . . .
The Classics If you are serious about enrolling in body bootcamp, the classics are for you. Good research pays, as on Indian classical dancer makes a lifelong commitment to dance...
This beautiful dance institute started by the late Protima Bedi, renowned classical dancer of national repute is cause driven. Besides admitting young talents from all over the...
Make it a daily challenge to find ways to move your body. Climb stairs if given a choice between that and escalators or elevators. Walk your dog; chase your kids; toss balls...

Regular coaching camps conducted for boys & girls at MAHATMA CHILDREN'S HOME. CRICKET KARATE TABLE TENNIS LAWN TENNIS DANCE (Western. Classical & Bollywood) Good...

Kalaripayaltu is one hell of a way to join the Indian dance fitness scheme. This age-old martial arts and classical dance blend from Kerala is the ultimate mixture of dance and...

An adage proved old fashioned by the Natya Institute of Kathak & Choreography (N.I.K.C.), Specially designed to nurture the creative abilities of students N.I.K.C. has...

Byju's Classes is a provider of educational services. Its wide range of products includes classes for Overseas and Domestic Test Preparation courses like (CAT coaching, coaching...
Category:
Submit your company info here.