Miamo Spa and Beauty
Claim this page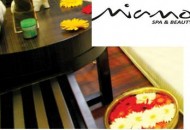 In the bustle of Central Business District is an oasis of peace and tranquility - MIAMO Spa - dedicated to offering world-class spa treatments based on the art of natural therapy. They urge you to close your eyes and commit yourself to the hands of their therapists and their therapeutic healing.
Feel the nimble fingers of the master masseurs trained at the Siam School in massage techniques, anatomy and aroma therapy. The Thai Hot Compress treatment is highly recommended. This is a singular experience, an ancient massage technique that heals persistent pains and eases muscle strain through deep stretching and rhythmic compression.
Or one could try the Signature Massage - a deep tissue oil massage using palm strokes and thumb pressure to relieve and heal muscular pains, reduce tension and relax the body.
Have yourself a little bridal indulgence with their three hour and twenty minute session performed by two therapists, so that you can walk to a new beginning radiant and relaxed. The bridal package includes a moisturizing and renewing facial, a rejuvenating body scrub, treatment for your hands and feet and threading. Or you could surprise your partner with a couple massage for a romantic evening together. The special entry on their menu is the Cellulite And Stretch Marks Treatment, a 90 minute invigorating therapy. Starting with the application of Paraben, Phithlate-free Resilient Body Oil which helps in natural hydration and heals the dermis layer of skin where stretch marks originate. This natural formula tightens and restructures damaged, stressed skin tissue making your skin smoother. Followed by deep circular application of Citrus Sugar Body Polish to remove the dullness of the top skin layer and renews cells in the lower layers where stretch marks occur. After a shower, nutrient-rich Illipe body butter is applied on the affected areas to improve elasticity and skin tone by strengthening from the inside out.
Awaken your senses at their unique and tranquil space located at Zela Health Club, Residency Road.
Miamo Spa and Beauty
' also may find interest in followings . . .

Yvollanda's Spa & Beauty Salon a trend setter in Kalyan Nagar Bangalore is a certified L'Oreal Club Salon for Men and Women Sothys Paris and Janssen German Facials / skin and...
What common human activity relaxes tense muscles; reduces blood pressure and heart rate; exercises the muscles of the face, diaphragm and abdomen; boosts the immune system; and...

Skin Deep The fairer sex is well ahead of most guys when it comes to skin care since most men tend to hang onto their masculinity at the risk of ignoring their skin. Biologically...

Our Strengths: Experienced Doctors Well trained therapists from Kerala Wide range of classical medicines Pleasant ambience Effective Treatment for: Balachikithsa (Child care)...
Body & Soul Slimming and Beauty Clinic is a Health Care Center at Indra Nagar, Bangalore Services: Slimming in a scientific way there are no crash diets or no rigorous...
The human body is a finely-tuned machine, and there are certain things our bodies absolutely need to keep going. Among those things are minerals, like calcium, iron and...
The best workout, according to top trainers and fitness experts, is one that includes the mind and spirit as well as the body. Consider some alternatives to your regular weight...
Category:
Submit your company info here.