Strand Book Stall
Claim this page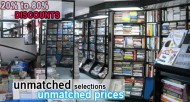 Founded by the iconic bookseller, the late TN Shanbhag, Strand Book Stall has set a benchmark amongst bookstores in India. The store is known for its fine selection of books.
As you visit '
Strand Book Stall
' also may find interest in followings . . .

Strand Life Sciences – Pioneers in Discovery Research Informatics, is a premier life science informatics innovation company. Strand leverages its core strengths and intellectual...

A break-through service for a sustainable reading habit in every child! i-CUE Book Kits - Home delivery and pick up of library books. A Dedicated initiative to encourage reading...

Ahuja book company was established in 1982 with a mission and vision to strengthen the knowledge industry - by becoming the best supplier of books to a large base of individuals...

Bangalore, July 21, 2014: SoulTree, India's leading and the highest quality BDIH certified Organic Beauty & Personal Care Products is now set to welcome consumers of natural...
This is a landmark store for used books and new ones too. Spread across three floors, Blossoms is a browser's delight, featuring eclectic titles from fiction and art to sci-fi and...

Grouptable is the one-stop destination for restaurants, booking parties and get-together s at special prices in India. Search for restaurants, cuisines with user submitted reviews...
travelstall.com is operated by Labbaik Tours and Travels (International), Bangalore, India. travelstall.com is a team with a vision and determination to excel. This online...
Category:
Submit your company info here.