Synergy Lifestyles (P) Ltd.
Claim this page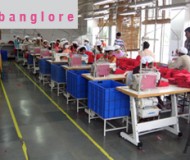 Synergy was established in Mumbai, India in 1991 with the aim of providing innovative fabrics & furnishing products for homes in the international market. Over the years we have grown into a dynamic force spread over 4 Indian cities.
Our production space of 45,000 sq feet over 3 floors has been designed for effective & smooth production. The Factory is well equipped with modern machinery to ensure consistency in quality & higher productivity. Every fabric is pre checked by fabric checking machines monitored by trained checkers. Value added & embellished products are stitched by skilled embroiderers & tailors at our factory. We also have a computerized embroidery machine, which is used both for creating new designs as well as for production.
Other facilities like Fusing Machines, Ironing stations, Stain removing machines, Stitching, double needle stitching & over locking machines & Needle detection machines, help us facilitate the work process & quality.
Our factory has also been audited by SGS for BSCI (Business Social Compliance Initiative) & ETI (Ethical trading Initiative) code for social compliance. Over the years we have developed a strong network of reliable suppliers & sources for fabrics, dyeing, printing & embroidery processes.
Synergy Lifestyles (P) Ltd.
' also may find interest in followings . . .
The worlds greatest garment finishing equipments Steam ironing systems which include steam generators, vacuum boards, steam presses, form finishers, body presses from Veit...

Printools was established by the Chairman Mr. N.A. Ananth in 1969. He launched the enterprise with the objective of producing quality equipment for the printing industry. A...
Business and Services: Manufacturers of Electronic Process Control Industrial Weighing and Automation Systems.
Business and Services: Toy and Game Shops
Karnataka Cleaner Production Centre (KCPC) has been established as the first regional center in the country, as a part of the initiative taken by National Cleaner Production...
Production of unbleached cloth. Production of papers cloth lower brightness levels. Production of paper with high ash content.
Business and Services: Manufacturers of Book Sewing Machine and Perfect Binding Machines Paper Printing & Book Binding Machinery.
Category:
Submit your company info here.