NutriGENEus
Claim this page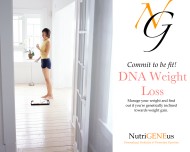 NutriGENEus is a London based company, bringing DNA based diets to India. We are a team of three dedicated dietitians who provide diet counselling based on the latest research. We have international exposure having working in UK and Australia. We have a range of genetic tests to suit every one.
As you visit '
NutriGENEus
' also may find interest in followings . . .
Karnataka is the green-field for setting up agro-based industrial activities. TECSOK has been recognised as the Nodal Agency by the Ministry of Food Processing, Government of...

TalkItOver is a Bangalore based counselling organization started by trained and qualified psychological counsellors. We offer professional counselling services across multiple...

Inner Dawn provides professional and confidential counselling services in Bangalore for individuals, children, adolescents and couples at our centers. We also provide counselling...

Ideas On Team Outings And Team Building Great team outings have always been one of the best ways of thanking employees for all their hard work, isn't it? What makes such outdoor...
It is a common belief that by increasing the amount of protein we eat and drastically reducing carbohydrates, we can lose weight rapidly. High-protein/high-fat diets do, in...

NCC is a vision seen in exemplary clarity by Dr. AVS Raju, architect, planner and builder close to three decades ago. Years that have seen the Company creating history, time and...

Oyaster is a leading Web design and development firm based in Bangalore, India. We are born to provide Creative, Innovative and quality Website Designing Solutions, Web...
Category:
Submit your company info here.