The Leela Palace Kempinski Bangalore
Claim this page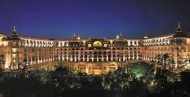 The Leela Palace Kempinski Bangalore offers luxury accommodation, divine comforts and impeccable services right at the heart of Bangalore. Ensconced in 9 acres of tranquility that includes an azure lagoon, The Leela Palace Kempinski Bangalore mirrors the lushness of the Garden City. Harking back to the royal heritage of the Vijaynagar Dynasty, our luxury hotel in Bangalore earns it name by showcasing gold leaf domes, ornate ceiling and grand arches, making it one of the most admired Bangalore hotels.
Distinct influences, exotic ingredients, flavours ranging from the subtle to the intense - explore the rich and diverse cuisine of Bengal with our Corporate Master Chef Farman Ali, who will design a special Bengali a la carte, specially designed to tease your taste buds in that perfect Bengali style.
The Leela Palace Kempinski Bangalore effortlessly marries the traditional past of Bangalore with its technological present. Liberally sprinkled with both business essentials and creature comforts, it is conveniently close to both Bangalore's business districts as well as its golfing greens.
The Leela Palace Kempinski Bangalore
' also may find interest in followings . . .

Sitting at the corner of the gorgeously refurbished Citrus, The Cake Shop at The Leela Palace welcomes you with an array of colours, textures and tastes to give a luxurious high-...
Leela Galleria is a luxury shopping mall at the Leela Palace. Spread out on three floors it is a one-stop shopping destination for designer wears, Jewellery, perfume, bags, shoes...

Hotel Rama (Hotel Regaalis) located in the heart of the city of Bangalore. Hotel Rama (Hotel Regaalis) is one of the economy hotels in Bangalore that offer good value for money....
The Oberoi Bangalore located on MG Road, in the heart of the business and shopping districts of Bangalore, the luxury hotel has an abundance of greenery that is characteristic of...

The Mark Boulevard Bangalore Hotel is a Boutique Business Hotel in Bangalore that offers the finest in luxury and services that are ideal for business travellers where the rooms...

Jayamahal Palace Heritage Hotel The enchanting Palace hotel is known for its royalty and elegance. The interiors are endowed by paintings, furniture and decorations which portray...
Olde Bangalore, a premium resort located close to the Bangalore International Airport, offers luxury tent accommodation, multi cuisine food and beverages, corporate event...
Category:
Submit your company info here.