Bodhi Professionals
Claim this page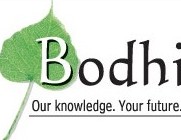 Bodhi Professional Solutions Pvt Ltd. is India's leading soultions provider in the photo, advertisement and printing industry. we also provide color management solutions to the Photography and graphic arts industry.
Bodhi-Professional Solutions Private Ltd. was incepted in the year 2001 in Bangalore with the sole objective of revolutionizing the printing industry. Printing Industry is evolving faster than ever and you need total integration, quality orientation and future focus to save your valuable time and money. We believe in open architecture, which makes possible for printing industry to mix and match the best of the hardware and software's to attain the best results. We work on 1-Bit technology, which streamlines the pre-press in the most affordable way and gives you an easy to use workflow solution. 1-Bit is the most predictable format which means fewer mistakes, less wastage that means saving time and money.
Bodhi Professionals
' also may find interest in followings . . .

Founded in 1966, the Indo-Italian Chamber of Commerce and Industry (IICCI) is a non-profit organization recognized by the Italian Government, whose main objective is to promote...

How To Start An Industry in Bangalore -
The Department of Industries and Commerce acts as a catalyst for the overall development of the industrial sector through effective discharge of developmental and facilitation...

Best Digital Color Prints now only at SV Color Graphics. SV Color Graphics Available Services: Quick Prints Visiting Cards Folders Invitation Brochures Certificates...

The name JIREH is a Hebrew word which means "See and Provide". We at Jireh are a young resourceful team with innovative ideas and an ambition to "provide" the best services in the...

Sternum Research Solutions is a service driven organization initiated by qualified and experienced professionals, striving for excellence in human research and committed to...

EFI is a leader in digital print. Offering value-added combinations of hardware, software and consumables, the company is driving the print industry's transformation from analog...
Category:
Submit your company info here.