Electronics For Imaging India Pvt Ltd (EFI)
Claim this page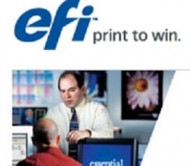 EFI is a leader in digital print. Offering value-added combinations of hardware, software and consumables, the company is driving the print industry's transformation from analog to digital color. EFI's robust product portfolio includes Fiery digital color print servers; VUTEk superwide digital inkjet printers, UV and solvent inks; Rastek™ UV wide-format inkjet printers; Jetrion industrial inkjet printing systems; print production workflow and management information software; and corporate printing solutions.
EFI Services:
As part of our commitment to high customer satisfaction, EFI Services provides prepress and graphics businesses, dealers and consultants, like you, several standard and custom professional services, training, and certification option.
EFI Fiery Global University offers eLearning modules, for new users or operators with daily operation, administration or management responsibilities involving Fiery solutions.
Fiery Educational Services provides on-going worldwide technical training to our OEM partners and channel distributors, like you. The goal is to empower people who use, sell and support our printing technology. EFI Technical Training's curriculum spans our production printing, Web-to-print, graphic arts, and office solutions.
EFI Professional Services increases your return on investment by offering standard and customized courses on deploying and operating EFI technology. It also provides optimization, implementation and customization and reporting classes to get more from your EFI Print Management Systems.
EFI Color Academy's classes show you how to effectively use and integrate EFI products with Bestcolor® Technology into your environment and to understand the principles of color management.
EFI-fogra·cert is a certification that ensures that specialist dealers and consultants can set up standardized systems using EFI Colorproof™ XF to produce fogra·cert compliant proofs.
EFI Bestcolor Knowledge Center serves as a valuable resource filled with information on best practices and tips that we've gathered over the years, while testing, developing, distributing and supporting our award-winning products using Bestcolor Technology.
Electronics For Imaging India Pvt Ltd (EFI)
' also may find interest in followings . . .

Best Digital Color Prints now only at SV Color Graphics. SV Color Graphics Available Services: Quick Prints Visiting Cards Folders Invitation Brochures Certificates...

THERMAL MANAGEMENT SOLUTUIONS FOR ELECTRONIC SYSTEMS AND ENCLOSURES Having problems with your electronic systems? Like... Over-heating and Hot-spots High power-consumption by...

NDS supplies open end-to-end digital technology and services to digital pay TV platform operators and content providers. Since 1990, NDS has been the market leader for digital pay...

We are a niche engineering and software solution provider specializing in delivering innovative solutions & services to leading organizations worldwide. Armed with development...
Whether it's advertising, branding, video production, digital, motion or print, we have the expertise and bright ideas to deliver the right service and appropriate solution for...

EmPower Research provides Custom Market and Media Intelligence services to Global 2000 companies, and Advertising and PR agencies worldwide. It was founded in 2004 by MIT Sloan...

Bodhi Professional Solutions Pvt Ltd. is India's leading soultions provider in the photo, advertisement and printing industry. we also provide color management solutions to the...
Category:
Submit your company info here.