Bookmyspa
Claim this page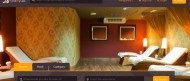 Newest on the city's spa scene is bookmyspa.in, an online booking portal that lets you book therapies at the nearest spa, salon, Ayurveda, reflexology or wellness center anywhere in the city. The website is currently operational in Bangalore and Hyderabad, and will soon be available in Delhi, Mumbai and Chennai as well.
Founded by IT professional turned entrepreneur Sriharsha BK, the website caters to the wellness sector on a big platform, giving customers easy access that was previously unavailable. He began his research on the spa & wellness industry and came to realise the potential it holds in the Indian market. This was enough to convince him to roll out his own start-up providing online-booking facilities at wellness centers.
The website helps you locate the best wellness centers around you by providing you with a list of brands to choose from. To cut your browsing time, bookmyspa has introduced an exclusive section called "Trending Brands" which lists the most popular wellness brands in your city with details on available wellness, beauty, fashion and health related therapies and treatments. You can also grab yourself a bargain at the 'Deal' section of the site, and avail heavy discount on services before booking your online appointment.
Research your spa before making a booking, with a detailed spa menu, customer reviews and images available on the site. This way, you can be sure you're getting what you expect out of every treatment.
Now you can ensure your appointment is set up without having to make a trip to the spa in person. It's a new age portal that gives you the option of booking beauty therapies and wellness treatments in a few hassle free simple steps. All you need to do is select your proffered time slot and head to the spa at your convenience for a getaway.
Use bookmyspa to make your next appointment so you can step into a luxurious spa, completely ready to be pampered.
Bookmyspa
' also may find interest in followings . . .

Yoga classes Yoga Health Management Yoga apparels & apparatus Teachers training program Wellness store Corporate wellness events Yoga is a science and has to be learned...

Dhanvantari Wellness center and pharmacy is a trusted name in Ayurvedic medication & consultation since 1982. We provide authentic and pure Ayurveda medication perfected by '...

At Chaitanya Wellness Centre, the focus for people suffering from aches and pains... is the two –pronged strategy subscribed by our ancient rishis and masters of Ayurveda. Dr. KRV...

Eatisfy lists restaurants in Bangalore, Mumbai, Delhi, Hyderabad, Chennai, Pune and some other cities, and presents diners in these cities a refreshing new way to discover...

Surrender yourself to sublime Rest and Rejuvenation The newly opened Lanna Unisex Thai Spa is an urban retreat of tranquil and calm. Transport into a state of pure bliss as you...
UBER international is a total beauty destination, offering services like anti-aging facials, laser hair removal, body contouring, full body massages, hand and foot treatments,...

Yvollanda's Spa & Beauty Salon a trend setter in Kalyan Nagar Bangalore is a certified L'Oreal Club Salon for Men and Women Sothys Paris and Janssen German Facials / skin and...
Category:
Submit your company info here.