Neev Information Technologies Pvt Ltd
Claim this page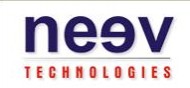 Neev Technologies is a software service provider specializing in portals and market places. With its expertise in technology and a profound knowledge of Web 2.0 and RIA (Rich Internet Applications) Neev has been able to provide solutions, which are scalable and offer a rich user experience. The company focuses on bringing the rigor, quality and ownership of product development to a services engagement. Neev strives to help its customers innovate and works in close coordination with them to come up with a solution which forms an exact fit to the needs of the consumers. A strong grip on open source components ensures that it chooses the right set of blocks that work well and have no interoperability issues and also decreases the total cost of ownership of the end product. The company's strength lies in web-based development using Open Source Java (Struts, Hibernate and Springs) and .Net, Web Applications (HTML, DHTML, JS, CSS, AJAX), Mobile Applications and Flex Development.
Neev Technologies Services include:
eCommerce
Portals
Mobile
QA
Custom Solutions
Domain
Neev Information Technologies Pvt Ltd
' also may find interest in followings . . .

Experts in Mobile Application Development, eCommerce solutions using Magento, SharePoint Services and Web Development, we are a cohesive set of people who have excelled in the...

XEN GlobalTech (Registered as XEN Technologies Pvt Ltd) helps its Global customers remain at the forefront of their industries with innovative uses of technology to operate their...

SourceEdge Software Technologies, an ISO 9001:2000 certified company, is a privately held company registered under Software Technology Parks of India (STPI) headquartered in...

The name JIREH is a Hebrew word which means "See and Provide". We at Jireh are a young resourceful team with innovative ideas and an ambition to "provide" the best services in the...

Bitmantra is a leading international producer and developer of mobile Applications. Bitmantra provides mobile development solutions for iPhone, iPad, Mac, Blackberry, Windows...

Aditi Technologies provides Microsoft software & applications development, strengthened by innovative IP solutions. Our quality services, products and applications enable...

With over 15 years of experience in migrating applications from legacy platforms to modern technologies, Bangalore Softsell offers a unique, risk-averse migration methodology,...
Category:
Submit your company info here.