Chimply Fun Pre School
Claim this page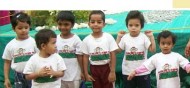 Evening Activities for Children.
Story Telling: Malini Aunty will tell Stories Interspersed with games to children (4 Years+) every Wednesday Froms 5.00 to 6.00 pm
Dance: Every Tuesday ... Children of age 4+ will learn to dance... to different popular songs choreographed by Malini Manjunath from 5.00 to 6.00pm
Yoga for kids: Children (5 years+) will learn to train their body and mind through yoga and pranayam every Mon, Tue, Wed and Thurs from 5.30 to 6.30 pm taught by Namita Sinha of Yogi kids.
Chimply Fun Pre- School
Pre-Nursery
Nursery
LKG
UKG
Day care
Learning center
Chimply Fun Pre School
' also may find interest in followings . . .

Yoga classes Yoga Health Management Yoga apparels & apparatus Teachers training program Wellness store Corporate wellness events Yoga is a science and has to be learned...

1: Date: April 2nd to April 26th 2. Venue: All Podar Jumbo Kids and Podar Jumbo Kids Plus centres 3. Timings : 9:30am to 1:30pm 4. Theme : Fun, Fitness and Leaning with Eric...

The Bangalore Children's Hospital is a not for profit organization dedicated to improving health and quality of life in children through its various programs in healthcare,...

Each child is special and Kids Campus school provides a structural learning program based on child's individual needs. Kids Campus is an ISO 9001- 2008 certified International Pre...
Music is an intellectual aspect that can drive our brains to forms of intelligence like response of the individual. children have a better response by the influence of music,...

Nurture Pre-school is 'A HOME away from HOME' for your kids. As you step into the portico, of this expansive place you're overwhelmed with a feeling of déjà vu! Haven't I seen...

Kinder Wonder is dedicated in enriching Children's growth UKG, LKG Pre School Nursery Baby Care Activity Centre Children mean the world to their parents. At Kinderwonder's...
Category:
Submit your company info here.